Airy Blog
Director's Blog – July 20, 2017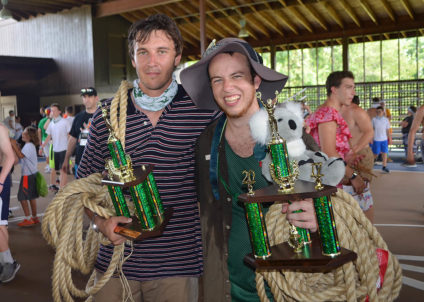 "We're going to need a new rope"
Once again, it came down to the Tug of War. Dani's White Team and Stephen's Green Team gathered in the Chernak Gymnasium after lunch in order to decide the the July 2017 Airy Olympics.
The build-up to this point was both inspiring and gut-wrenching. The day kicked off with "Bingo Breakfast." With every number call, campers and staff gasped or groaned. Our Culin-Airy department head Josh Lerner ran the bingo board and delivered some great zingers – "If I don't see you after breakfast, I'll see you B-4 … it's B-4 everyone." (Rumor has it that Josh may be moonlighting next session at various bingo halls around the area.) Team members stood as their cards were one number away. There was one tense moment – a "bingo" call was made, but upon verification it was found to be incorrect. The game continued, and a few bouncing balls later, "bingo" was exclaimed … by 8 people … and the game ended in a tie.
If you really want to know how committed our campers are to winning Olympics, look no further than yesterday's "Silent Lunch." The only speaker in the room was a staff member inviting people to the buffet lines. Bunks were given paper and crayons to write if needed. Airy Olympic Committee members roamed the dining hall to note any silence offenders. Some staff tried to sneak in a whisper to other staff, but camper looks and glares remedied that. The looming specter of point deductions was appropriately respected by all. Both teams were allowed to talk and cheer once we gave a score update at the end of the meal; as official scorer Ricky said the word "White," the dining hall exploded with sound.
Bringing this all full-circle, the White team maintained its slim lead through the tug of war, and General Dani hoisted a "champion" trophy. One more ideas worthy of mention – when the staff round for tug of war arrived, the Olympic result had already been sealed. As the staff engaged their tug for fun, the rope snapped.
Both teams laughed and cheered. We hope to post video soon.
Marty
Today's Birthdays
none
Today's Menu
[table "" not found /]
Today's Weather

High: 97°F | Low: 73°F
Really Hot … and Sunny too!