Airy Blog
Director's Blog -July 21, 2015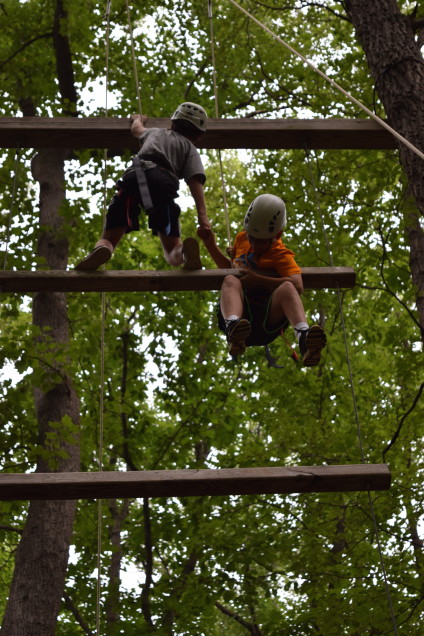 When we say that campers at Airy find their "inner awesome" in activities that are athletic, creative and adventurous, we're talking the talk and walking (climbing?) walk. It takes guts to put on the gear and traverse an element that big and tall. And to do so on the first full day of camp, while you're still learning people's names? I give those young men a ton of credit.
Every day, Airy campers are invited to take on challenges of all types. Scaling an outdoors element, strumming a new chord on the guitar, mastering a stroke at the pool, or coming through in the clutch during a league game in basketball.
Camp provides the safe, supportive place where children can attack a challenge without fear of failure. At Airy, our campers' confidence is bolstered by the high level of instruction provided by staff, and also by a supportive network of bunkmates and friends. I am proud to count myself among the boys who overcame obstacles or achieved a "milestone" at Airy. I learned to swim at camp. I slept outside in a tent for the first time at camp. I hiked in a creek, ascended a fire break, played soccer against a Brit, and delivered a camp reflection at services. Without the support of staff and fellow campers, none of that could have happened. Because I wasn't afraid to fail, there was no doubt in my mind that I would succeed.
What challenge will our boys take on today?
[bq_color]
Today's Birthdays

none
[/bq_color]
Today's Menu
[table "" not found /]
Today's Weather

High: 91°F | Low: 72°F

It was hot. No two ways about it … hot.
Marty Rochlin
Director