Airy Blog
Director's Blog – July 22, 2019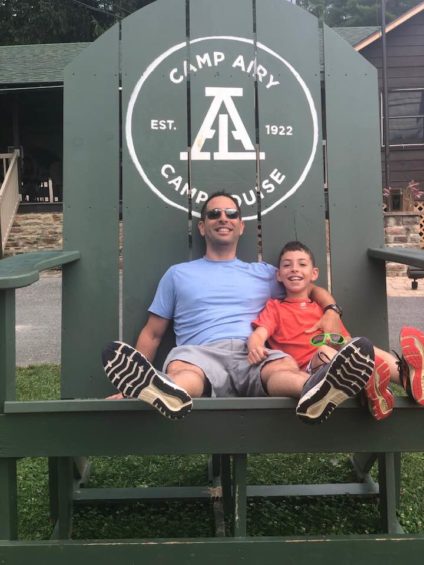 "Talkn' 'Bout My Generation"
Meet Jordan (dad) and Brennan (camper). Two generations of Camp Airy campers, posing in a classic camp green Adirondack chair on the Opening Day of Session 2L in Summer 2019. One of the best parts of an Opening Day at camp is seeing how many generations of Airy-Louise campers come out of cars and shuttles. We saw some grandmas and grandpas today. My old friend Sam came to camp with his son Louis, a second year camper, and his mother. My mom and sister stopped by to say hello after dropping my two nieces off at Camp Louise. A day prior, the family of our "Chocolate Lady" Aileen checked into to Airy and Louise – son Max is a CA, daughter Sophie is a camper, and mom Annette works at Airy.
On Sunday, we held our annual Order of the Leaf induction ceremony, honoring staff who have reached the milestone of three summers of service. The folks getting "pinned" ranged in age from 20 – 77, and new inductees were pinned by Leaf members of all ages. The original Order of the Leaf group was founded in 1934, and its charter reads:
Be it known to all that on this 29th day of August in the year 1934, the brotherhood of the Order of the Leaf has been duly organized by the senior members of the counsellors staff of Camp Airy for the purpose of promoting the spirit of friendship among each other and of loyalty to the institution of which they are a part.
Over the course of 85 years, brotherhood has broadened in definition – Leaf members and officers are men and women. Friendship and loyalty are just as important now as they were to the senior staff in 1924. At the annual Leaf reunion weekend, the mixing of generations really is cool to see. Just like we enjoy seeing the mixing of generations on drop-off and pick-up days.
We hope may more visitors and families from any and all generations have a chance to take their own pictures in Airy's big Adirondack chair.
So long until the next blog,
Marty
Today's Birthdays

Happy Unbirthday to All!
    BLOG SPOTLIGHT – Camp Airy Transportation Staff    

What a busy day! We are so appreciative of Mike and Jim and all of the people who organize Airy's vans and shuttles. Not only did they do an exemplary job getting families to and from and uphill and downhill on Opening Day, they came to our aid later in the afternoon and evening. While the passing storms did cause us to alter some plans, Mike and Jim and their team made it possible for campers and staff to get around the mountain safely and efficiently. They also played a key role in helping the health center during bedtime meds. Many thanks to everyone involved.
Today's Menu
Breakfast , Lunch , Dinner
Scrambled Eggs | French Toast Casserole | Cereal | Fruit | Yogurt , Pizza Bagels | Curly Fries | Broccoli | Salad Bar | Pasta Bar , Steak and Chicken Fajitas | Peppers and Onions | Black Beans | Rice | Salad Bar | Pasta Bar |

Today's Weather

High: 86°F | Low: 66°F
A sunny morning for arrival, and then a stormy afternoon and evening.