Airy Blog
Director's Blog – July 23, 2019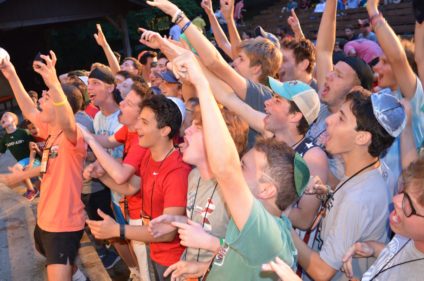 "Six Minutes…"
We are taking it back to the old school tonight, paying homage to Doug E. Fresh and "The Show" from 1985. Tonight at Camp Airy, delayed by a night due to Monday's storms, it was time for the show … the "Welcome Show," that is.
Tuesday was a super day at camp. After an opening day and night that brought some wet weather, day two was dry and camp was open for business. Auditions in drama … swim / deep water tests … go-karts zooming … campers flying through the air on MegaZip and the Scissors Tower. As I was walking around downhill, I came across a bunch of our supervisors getting in on the fun too. Zac from the CITs was doing conditioning drills with some trainees. Dom from Unit D was hanging out in Parkour. Max from Unit E was scouting his campers over at the baseball field. Doug and Lauren from Junior Camp and Rookies, respectively, were chillin' at the pool. When I made it over the the gym, Clay from the Senior Division was shooting buckets while watching the basketball clinic.
After dinner and a rest period, we all gathered at the Cohen Theater. The atmosphere was high-energy, and I felt it too. The new benches – WITH BACKS – were filled with campers and staff and the new sound system was booming. We did a roll call for all of the Units … I rolled down the list with A and B and C and D and E and F and STs and CAs and CITs and I was done. Or was I? As I sat on the stage, a group siting in the front row to my left started to cause a ruckus. THE ROOKIES! I acknowledged my "mistake" and the crowd roared with thunderous applause for camp's newest and youngest campers.
Then (finally), I got out of the way for "The Show." Goober and Dan hosted and sprinkled in corny jokes and some audience participation between acts that included Dan and Ido's mini-song session ("Shigaon" and "Spirit in the Sky"), a lip synch and dance medley by the Unit Leaders and their Assistant Unit Leaders, an Icelandic song from Shai and Ewan, and the counselor band "Electric Babaganush." At every opportunity, campers and staff sprang out of their seats to sing and dance. I didn't relish being the person to bring to an end, but we had two more important parts of the night still to come.
The first was our Goodnight song. With staff musicians providing accompaniment, the Division Heads joined me to lead the song. Following, it was time for s'mores. Unit Leaders and Outdoors Staff had prepared our fire pits in advance, and Erin in food service had assembled the s'mores supply crates. The roasted/toasted marshmallows were a wonderful ending to an action-packed, fun-filled day in Thurmont.
So long until the next blog,
Marty
Today's Birthdays

Happy Unbirthday to All!
    BLOG SPOTLIGHT – Camp Airy Unit C    

Hello Parents,
Welcome to second session! This summer Unit C will be diving into the world of our amazing division head Doug Putchat. Our theme this summer is centered around all the amazing things Doug offers to camp. Our four bunks have been tasked to create a job they think Doug would do. Doug's jobs are a firefighter, lifeguard, astronaut, and policeman. Unit C had a wild first evening as they had casino night and earned Airy-Bucks for their respective bunks. This summer they will use the Airy-Bucks to participate in the Airy auction to earn amazing prizes all around camp. In the upcoming weeks Unit C is definitely the place to be as we will continue to create memories and friendships that will last a lifetime.
Sam Katzker, Unit C Unit Leader
Today's Menu
Breakfast , Lunch , Dinner
Omelettes | Hashbrowns | Cereal | Fruit | Yogurt , Sloppy Joes | Tater Tots | Salad Bar | Pasta Bar | Churros , Baked Chicken | Broccoli | Mashed Potatoes | Gravy | Salad Bar | Pasta Bar |

Today's Weather

High: 77°F | Low: 62°F
An overcast morning gave way to a sunny afternoon.