Airy Blog
Director's Blog – July 24, 2015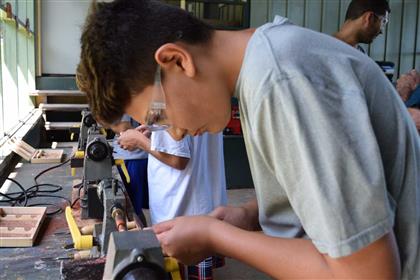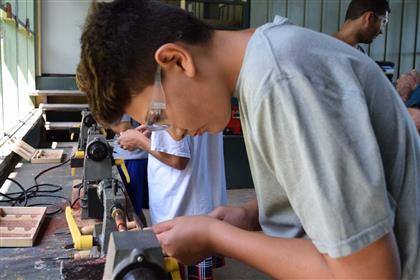 A facet of Camp Airy that we take great pride in is being able to offer a wide variety of activities and opportunities to our campers. It is our goal that any camper will find something to satisfy his skills and interests. He may be athletic, creative and/or adventurous. We will offer activities, led by talented staff members, to let him "find his inner awesome."
Our revamped Arts and Crafts department is a great example. This past off season, we began to think about how we could make aspects of our whole camp program more robust. The work started as soon as camp ended, as some staff remained at Airy to work on the BMX track. Hours and hours were spent tweaking hills and turns and drainage. We then talked about giving other areas a facelift – a fresh floor for the Chernak Gym; relocating the batting cages to the area next to the baseball field, and giving that field Major League treatment with an outfield fence, dugouts, and a permanent backstop.
We didn't just focus on building things. We also filled our existing spaces with new people and ideas – a multimedia department with cameras and computers; special guest coaches and instructors for baseball, basketball, lacrosse, wrestling and soccer; astronomers, scientists and gardeners that brought Airy's natural beauty to the forefront; and musicians to teach and entertain all of camp.
Which brings us back to Arts and Crafts. "Downhill Arts and Crafts" as it was known back in my day was in need of some new projects, more notoriety and exposure. Our team decided to approach Arts and Crafts from the angle of providing our boys more opportunity to build and tinker. Guided by the expertise of Tim Olsen and Josh Kohn, we unveiled a wood shop and re-introduced model rocketry. Tim and Josh, along with Karen Kohn and Judi Edwards, facilitated a safe and challenging work space. Campers could make pens on the lathes. They designed and built kitchen cutting boards. They assembled model rockets, and after adding some flair and color, launched them in front of an audience. We bolstered our staff with counselors specifically skilled in these project areas. This allowed us to not only introduce these activities to campers trying them out for the first time, but also instruct and challenge the campers looking for more.
All of the ideas that we have implemented in 2015 have come from within our great organization – yet another reminder of the great campers, staff and families that we have here at Airy.
[bq_color]
Today's Birthdays

David Z.
[/bq_color]
Today's Menu
[table "" not found /]
Today's Weather

High: 88°F | Low: 55°F

We can get used to this – another beautiful, sunny day at camp.
Marty Rochlin
Director