Airy Blog
Directors' Blog – July 24, 2017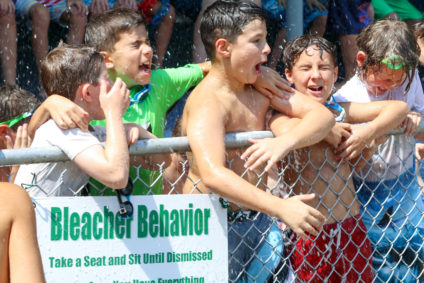 "Summer, Summer, Summertime"
Today's Opening Day at camp has a special place in my heart. For my seven summers as an Airy camper, this was my day. Like today's campers who checked in, I spent the first half of the summer at home waiting for my turn to come to camp. The waiting game was hard way back then. I imagine it's so much harder now, as campers and their families can follow what's happening up at camp through our website and social media. And the pictures – how can a camper not get excited for the start of camp while scanning hundreds of pictures daily?
When we gathered as a whole camp for the first time today at lunch, you could hear and feel the energy. Our dining hall is always kind of loud – that's what you get when 326 campers plus staff pack into a century-old building with acoustic nuances. Add in everyone's favorite meal – pizza bagels, curly fries, chocolate milk and cookies for dessert – followed by a rousing rendition of "Pizza Man" – and it's a party atmosphere. The session known as "2 Long" was officially up and running.
All of this brings us to today's featured photograph – one of my favorites. The juxtaposition of the pool's bleacher rules and the joyful campers behind it makes me smile. Airy's swim staff was facilitating deep water tests and also entertaining campers waiting to be called with a homemade "splash zone" that would make Sea World proud. Bunk counselors hung out with campers while they waited, and then joined them in the pool for the free swim that followed. I give credit to the Airy staff who seized the opportunity to make opening day special for campers and their families – from the organized and smooth check-in process, to a fun first meal, to activity signups and an afternoon of playing under the sun.
And I'd be remiss if I didn't mention our welcome show. Rachael and Alexis were witty hosts, the counselor band rocked the house with "500 Miles" and "Sweet Caroline," and everyone dispersed for s'mores to cap off the evening.
Looking forward to Day 2,
Marty
Today's Birthdays
none
Today's Menu
[table "" not found /]
Today's Weather

High: 94°F | Low: 63°F
A beautiful morning for camper arrival, and warm, sunny afternoon.