Louise Blog
Director's Blog – July 24, 2019
ROOKIE CAMP 
This week, we have two full bunks of Rookie Campers who are loving life! They can be seen at shows, in the dining hall, at activities, and all around camp. They are pure joy! Their smiles and laughter fill camp! Walking by their bunks, they can always be seen outside playing with their new friends.
On the first night of camp, the Rookies sang us their song. Here's a bit of their song that really sums up their time at camp:
Hand clapping, song singing, friend making
There's no faking, what you feel, when Rookies are here – yeah!
Rookies are rock stars
You can see us in tie-dye or on the field
It's the best week of the year!
Last night, I had the great opportunity to go into their bunks and spend some time with them. We talked about their favorite activities so far. They told me all about aerial arts, swimming, glass fusion, farming, gymnastics, and nature – and that was only after a day and a half of activities!
Then, I read them a story before bed – I Love Camp by Todd Parr. What a great book to end a great day at camp! This morning, I saw them at the Adventure Park and I was greeted with a big HI, ALICIA! It was precious!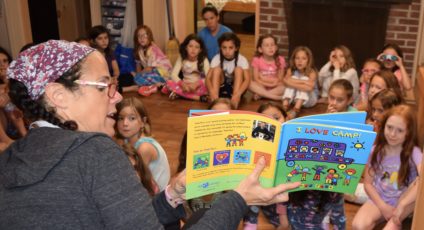 When I spoke to Rookie Camp Director Karen about her goal for the week. She said, "Rookie Camp is a wonderful first experience for the girls to get a taste of camp and to leave wanting more!"
Only 3 days in and the Rookies are already becoming very comfortable here at camp and we love having them! We can't wait to see what the rest of the week holds for them!
Alicia
Today's Birthdays

Kayla – Bunk 24

Lily – Bunk 15

Lachlan – Security
UNIT SPOTLIGHT – Unit D  

As we go into our 2nd full day of camp, everyone is still so excited about getting to try the different activities around camp – old and new, such as the new parkour equipment and even a chance at rivalry. Many of the campers enjoyed the Tzofim last night jumping around and singing in Jill's Place and they enjoyed tonight's evening activity of 6th period just as much. 6th period is new this year and it's an extra activity period where the campers get a chance to enjoy even more activities like folkdance, archery, multimedia and games under bunk 1. I know everyone is so happy and always ready to try new activities over the next 3 weeks.
Lois – Unit D Unit Leader
Today's Menu
Breakfast, Lunch, Dinner
Egg McA&L | Biscuits | Egg Patty | Meatless Sausage | Cheese | Melon, Chicken Sandwich | Lettuce Tomato Onion | Green Beans | Chips | Salad Bar | Pasta Bar, Pizza | Sauteed Veggies | Caesar Salad | Zucchini Fries | Salad Bar | Pasta Bar
Today's Weather

High: 76°F | Low: 62°F – Mild and sunny with a late afternoon rain