Airy Blog
Director's Blog – July 24, 2019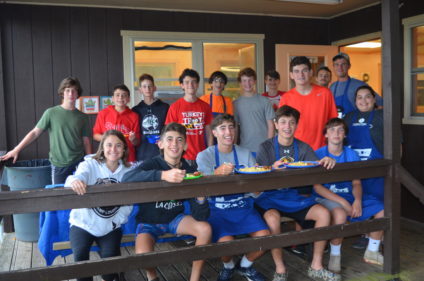 "On Top of Spaghetti"
When the blog title and tonight's dinner match up, you know it's a special occasion. We have food on the brain because there was a Master Chef event tonight. Kim in Culin-Airy hosted several Senior and Trainee Division campers for a competition. We had a special correspondent at the event – our very own Assistant Director and self-proclaimed foodie, Rachael.
On the guest list with me were Junior Camp Division Head Doug, Staff Educator Karen, and Parkour specialists Elijah and Simeon. The 4-course meal started off eloquently with fresh glasses of lemonade and homemade chips, guacamole, and salsa that could have easily passed for Chili's own 'table side' version. Look out for camp's next item to be sold at our swag table on closing day – bottled guac and salsa.
Following the impeccable appetizer was a fresh mixed greens salad consisting of cucumbers and celery. This was the perfect palette cleanser for the main course – mango glazed chicken with seasoned steamed asparagus. Each bite was the equivalent of holding a puppy – warm and inviting.
But wait, there's always dessert, right? Sure enough, the Unit F and CA chefs walked out with bowls of mini donuts with a warm glaze as the cherry on top of an unforgettable meal.
The meal was not the only thing that made guests smile from ear to ear. It was also the skill, passion, and pride they took into creating and serving each course. Kim, along with her team – Ivan, Noah, Zach, and Nick – have made Culin-Airy one of camp's most favored departments. The energy that the staff puts towards the preparation, cooking, and even cleaning all contribute to the full Culin-Airy experience, and is directly passed down to our campers.
It is amazing to see our campers learn to love something new or familiar at Airy, and even greater to see them make it into their own.
So long until the next blog,
Marty
Today's Birthdays

Happy Unbirthday to All!
    BLOG SPOTLIGHT – Camp Airy Unit D   

Unit D has got off to a flying start, which is ironic due to our unit theme this summer being destinations. We will enjoy unit activities surrounding locations around the world leading to a marvelous adventure and task to overcome. Our first evening activity had campers running between locations uphill and drawing objects from around the world on paper for campers to guess. As a unit we will embark on an adventure around the world to uncover the mysteries that will hold the answer to the activities we're involved in. Gotta "jet!"
Dom Jones, Unit D Unit Leader
Today's Menu
Breakfast , Lunch , Dinner
Scrambled Eggs | Chocolate Chip Pancakes | Cereal | Fruit | Yogurt , Panairy Day – Bread Bowls and Soups | Tuna | Egg Salad | Caesar Salad | Greek Salad | Pasta Bar | S'Mores Pies , Spaghetti and Meatballs | Squash and Zucchini | Garlic Bread | Salad Bar | Pasta Bar |

Today's Weather

High: 79°F | Low: 63°F
Nice morning, rainy afternoon, clear and cool evening.