Airy Blog
Director's Blog – July 25, 2017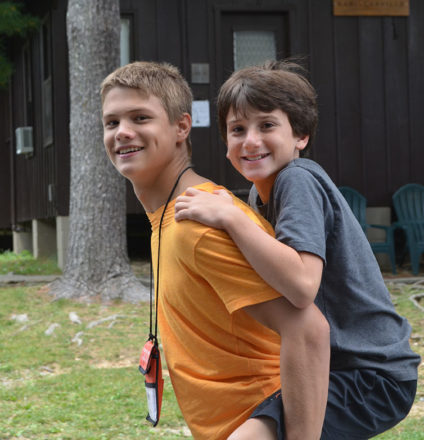 "With a Little Help From My Friends"
One of the cooler things that happens over the course of a session or a summer at camp is the connection between many different kinds of people. Relationships and bonds that form at camp transcend age, geography and culture. With campers and staff representing 15 countries, and a community whose age range spans 7 to 70+, Camp Airy ties are strong and special.
One such connection we celebrate is that between Camp Airy trainees and our younger campers. The CITs (counselors in training, just having completed their 11th grade school year) spend a full summer at camp in a dual role – not only are they campers, but this group also participates in Airy job training and leadership development. Our hope is that many choose to be on staff one day at Camp Airy, and that all will learn something that will bolster their chances at success at any and all future endeavors.
The training program covers three summers – following both 9th (STs) and 10th grades (CAs) as well. The trainees as a group give great energy to any event going on at camp – a dance, a song session, even just walking the hill to and from activities … sometimes giving piggy back rides. They are the big men on campus, and it's pretty cool to see younger campers look up to them. These trainees work with campers in bunks, at activities, in big/little bother settings, and more.
I can remember campers I worked with, and jobs I held, while attending Camp Airy as a trainee. Those summers bring a smile to my face. And I fondly recall the summers I spent as a unit leader for Airy trainees. What a great experience working with those young men, many of whom would go on to become Airy staff. Some are now parents of Airy and Louise campers. I hope that this generation of Airy trainees gets as much out of their opportunities as my group (and others) did.
Marty
Today's Birthdays
none
Today's Menu
[table "" not found /]
Today's Weather

High: 80°F | Low: 60°F
Simply gorgeous weather for our first full day of camp!