Louise Blog
Director's Blog – July 25, 2017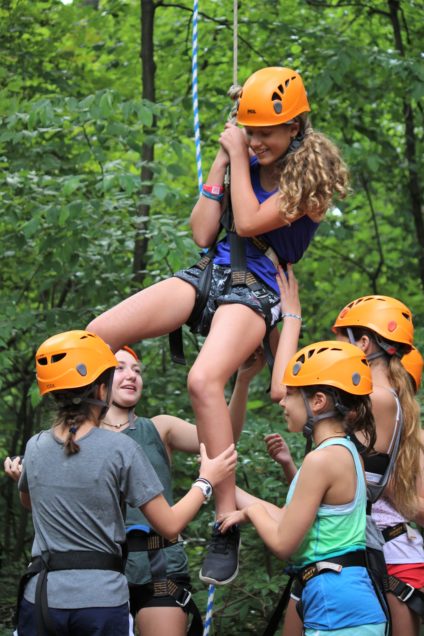 BUILDING TRUST ON THE ROPES COURSE
Bunk 31 was so excited to talk to me about their adventures on the Ropes Course today. This bunk of fourteen rising 7th graders has a very mixed group of campers – for some, it is their 4th, 5th, or even 6th year at camp and for others it is their 1st, 2nd, or 3rd. The campers also are from different places in Maryland (Rockville, Potomac, Reisterstown, Owings Mills, Silver Spring, North Potomac, Olney, Bethesda, and Dayton), in Virginia (Reston and Richmond) and even in Florida (Windermere, Weston and Maitland).
Today, they came together on the Ropes Course for a fantastic morning! In this picture, 5th year camper Gabby (backpack summer – wahoo!) was getting down from an obstacle where she had to walk across wooden planks up in the air. Her bunkmates had to hold the ropes that were connected to the planks to make sure they were steady. Although Gabby loves this type of activity and has even done similar ropes courses at camp, at home, and even in Spain on a recent trip, she has never done this particular challenge until today! Gabby told me that she was both excited and nervous because she had to trust her bunkmates and she had to communicate with them where she needed to be.
We went off on a slight tangent as Gabby shared with me that she absolutely loves camp. She loves being with her friends, doing activities and just everything!
Back to the Ropes Course…
Gabby and her bunkmates told me that doing the Ropes Course builds trust and confidence. Gabby knew that she was safe because she was surrounded by her friends (and a harness). They talked about being more willing to take positive risks in the camp environment. They told me that doing this activity connects the bunk in a unique way. One of the campers talked about the fact that this activity teaches the new campers how close they can be, just like a family.
Bunk 31 loved working as a team. They had to trust each other in order to accomplish the tasks. They loved cheering each other on and encouraging their bunkmates – especially the ones who may be a little fearful of heights.
Before literally running off to free swim, the campers told me:
"It was awesome!"
"We loved it!"
"We had a blast!"
What more could we ask for?!
Alicia
[bq_color]
Today's Birthdays

Rebecca – Bunk 35
Emma – CIT
Jenny – Counselor
[/bq_color]
Today's Menu
[table "" not found /]
Today's Weather

High: 75°F | Low: 60°F – Gorgeous, gorgeous, gorgeous!