Airy Blog
Director's Blog – July 24, 2018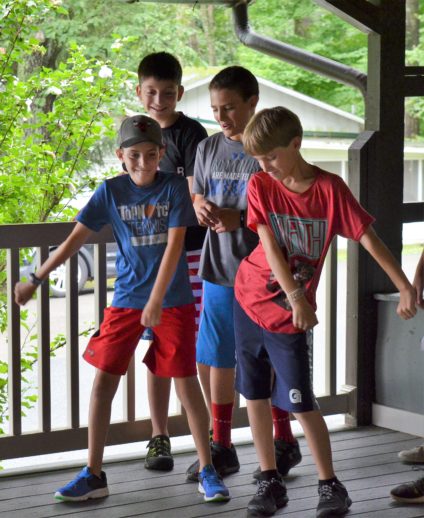 "Bust A Move"
Finishing a thought from yesterday's blog … one of the opening acts at that 1990 Milli Vanilli concert that I attended in Baltimore was Young MC. His big hit – "Bust A Move." Dancing at Airy really does have a strong following. The kids in today's picture are "flossing," but they aren't the only pop culture steppers at Camp Airy.
In the past couple of summers, Friday nights have come to include large group dances. Whether you call them line dances, or Israeli dances, or folk dances, it doesn't matter. What does matter is close to 500 people moving, jumping, and contorting in unison. When you're really young, the first big group dance most of us learn is the "Hokey Pokey." Depending on your age, Bar and Bat Mitzvahs, and school dances, featured "The Electric Slide," "Cha Cha Slide" and "Macarena." Maybe you like "The Wobble" or "The Tootsie Roll?" Some people are drawn to "Hoedown Throwdown" and others wax nostalgic for "The Chicken Dance."
Led by our assistant director Rachael, our Friday nights are filled with "Golden Boy," "Sieben Sieben" and "Ba Kalil." The Friday dancing has led to Olympic synchronized dance competitions, and as pictured today, a rainy day activity. Many people react in disbelief when I tell them that as a CIT in 1991, I participated in the Camp Louise Dance Concert. It was a "West Side Story" theme, and I was "Tony" in a partner dance with a Louise CIT. For several days, a bunkmate and I were driven over to Louise for rehearsal. Our fellow Airy CITs came over to Louise to watch the dance concert. I'm sure most people in the audience expected the Airy boys to goof around on stage, but we took it seriously. And we did well. And we got LOTS of cheers. For a few summers after, Airy staff performed a dance or two in the Louise dance concert. It was fun.
Bringing the story full circle, Airy is and has been a place where campers can try something new. It's a safe place to take a risk, to put oneself out there, to take on a challenge. Indoors or out, uphill or down, we relish providing these opportunities for our campers.
Marty
Today's Birthdays
None – Happy Un-Birthday to All!
Today's Menu
[table "" not found /]
Today's Airy Weather

High: 79°F | Low: 70°F
Broken record forecast – It was wet, it was dry, it was wet, it was dry …!