Airy Blog, Louise Blog
Directors' Blog – July 26, 2017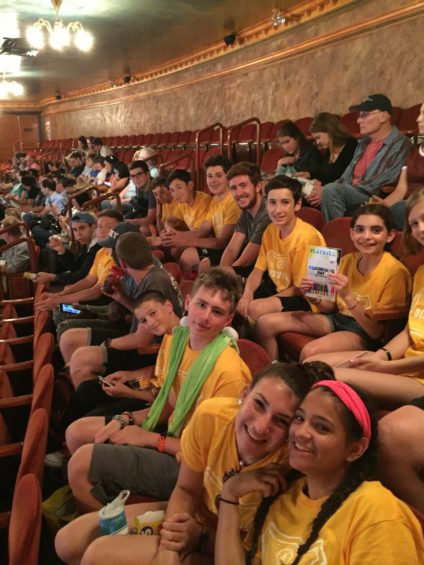 "I've Got a Golden Ticket"
Our Thurmont and Cascade campers hit the big city today to see shows on Broadway. Camps Airy & Louise traveled by coach bus to New York City to see "Groundhog Day" and "Charlie and the Chocolate Factory." Although they had to wake up quite early, nothing would dampen camper or staff excitement for the sightseeing and shopping ahead. Throughout the day we saw pictures of big smiles and souvenirs, and show reviews were glowing.
Lilly from Unit E said, "The NYC trip is one of my favorite days at camp."
Jordyn from Unit E said "I was so excited to go see a show with my best camp friends."
Manny, a Unit F camper who loves outdoors activities, said simply "Camp was already awesome – with these "inside" activities thrown into mix, I have too many good choices."
One of the chaperones, Jon, remarked "It was a V-Airy fun day in New York. And the irony – our campers in golden shirts, and a show about golden tickets. You can't make this stuff up!"
Another chaperone, Leo, remarked, "Whoever Tony is, I sure hope he gives an award to this show. I had no idea a show about groundhogs could be so cool!"
The trip to Broadway is one of the add-on experiences that Airy and Louise "senior division" campers can pursue. It's rewarding to see how excited our campers get when they have this opportunity to go to New York with their camp friends. We are committed to providing our campers chances to "find their inner awesome" whether they are athletic, adventurous, creative, or a blend of all of the above.
Marty and Alicia
Today's Airy Birthdays
Navi
David – Staff
Today's Airy Menu
[table "" not found /]
Today's Airy Weather

High: 90°F | Low: 67°F
Today.Was.Beautiful.
Today's Louise Birthdays
Jordan – Bunk 23
Today's Louise Menu
[table "" not found /]
Today's Louise Weather

High: 78°F | Low: 64°F
Lovely day!