Airy Blog
Director's Blog – July 26, 2019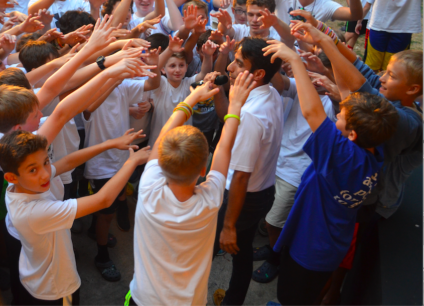 "Wave Your Hands in the Air Like You Don't Care…"

Blog readers who can identify that this lyric comes from "Word Up" by Cameo are true music aficionados. The song just popped into my head after seeing tonight's blog picture taken during song session. Campers and staff gathered around co-song-leader Ido as he descended from the stage into the audience. Aren't wireless mics cool?
Song session had a few new wrinkles tonight. We gathered at the Cohen Theater in order to take full advantage of the new sound system – and did we mention that our benches have backs!?! Dan and Ido were joined on stage by camper-extraordinaire-and-future-song-leader Max, and the three of them led camp in "Shigaon" and "Spirit in the Sky" and "The Cat Song" which then morphed into a song involving moose and cows. There was a dueling kazoo segment where Dan and Oren hummed back and forth. Dan and the audience went back and forth in a cowbell-clap cadence, and then song session wrapped up with a Lion-King inspired "Circle of Life."
Dancing was next. All of camp converged on the Village Row basketball court for dancing led by Zac, Shai, Shlichim and the CITs. Shout out to the Rookies who were front and center for dancing in their first Airy shabbat. Before heading off to Campteen and movie night, Dan and Ido and Max led us in the "The Goodnight Song." We are excited for a late wake-up on Saturday, an Oneg following services, and then an afternoon of electives, Wacky Olympics, pool time, and a a few surprises.
Shabbat Shalom!
So long until the next blog,
Marty
Today's Birthdays

Austin
    BLOG SPOTLIGHT – Camp Airy Unit E   

My name is Max Weinsweig, Unit leader of Unit E (rising 8th graders). I am so excited to let you all know what the best unit in camp has been up to! We have been lucky enough to have great weather so far this session. Wednesday night we had our first Unit Activity. We played a game called Hungarian Handball. Essentially, the game combines ultimate frisbee, basketball and water polo (ground polo might be an easier way to put it) all in one. While that was going on, hockey and regular frisbee was happening as well. We played the game on the blue courts beside the gym. The kids had an amazing time! I was impressed with our athletic skill level. The counselors were engaged and started to build key connections with their campers as well. There was a great display of sportsmanship and I am very proud and lucky to be able and give these campers an awesome experience for the next 16 days.
Tonight we had services, a great Shabbat dinner, a song and dance session and finished with the movie Men In Black. A great film. Marty says it's the best out of the series so he'll be happy when he finds out we chose the original. Tomorrow we have a late wake up and the campers are super excited to sleep in. I hope Marty's blog has been a joy to read! I look forward to putting in another Unit Spotlight in the future.
Max, Unit E Unit Leader
Today's Menu
Breakfast , Lunch , Dinner
Egg McAiry | Veggie Sausage | Cereal | Fruit | Yogurt , Grilled Cheese | Tomato Soup | Goldfish Crackers | Chips | Pasta Bar , Brisket | Roasted Potatoes | Broccoli | Chicken Noodle Soup | Pasta Bar | Salad Bar | Strawberry-Apple Pie

Today's Weather

High: 85°F | Low: 66°F
A gorgeous sunny day!