Louise Blog
Director's Blog – July 26, 2019
MIDDAH OF THE WEEK – COURAGE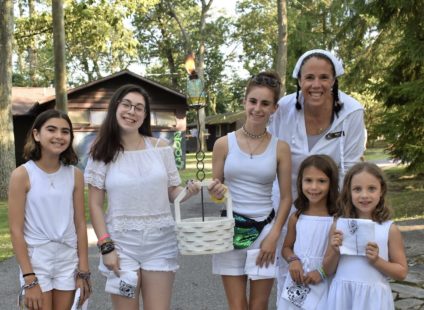 Each week, we focus on a different middah/value. This week was courage/ometz lev (strength of heart). Every day in the Daily, we print conversation starters or quotes about the middah. Here are some from this week:
"Be more concerned with your character than your reputation, because your character is what you really are, while your reputation is merely what others think you are."
John Wooden, coach
Courage/ometz lev in Jewish life isn't always about acts of bravery like scaling Mt. Everest. Instead, it's about how you take the power of your own heart (lev) and use it to do normal things that scare you.
In the Torah, when Moses is turning over the leadership of the people to Joshua, he says, "Chazak v'amatz* – be strong and of good courage" How would it feel to hear those words from someone you admire when you're having a hard time? (*related to the middah word Ometz)
"Courage starts with showing up and letting ourselves be seen."
Brene Brown
"It takes a great deal of bravery to stand up to our enemies, but just as much to stand up to our friends."
J.K. Rowling, Harry Potter and the Sorcerer's Stone
Some of the campers who demonstrated the middah of courage were honored to light candles with me tonight. Some of the reasons these campers were selected were:
This Rookie camper showed amazing courage at the Adventure Park. Although she was really scared, she didn't give up and she did it!
This Rookie camper got sick on the first day of camp. She needed to have a throat swab which she had never had done. She was so brave. She stayed in the Health Center when she had never been to camp before. She never complained or even cried. She chose to stay at camp when she was sick because she couldn't wait to get back to her bunk to have fun! She was never scared to talk to anyone in the Health Center. She showed so much courage!
When this Unit E camper was facing a challenging health concern, she remained calm and was extremely brave.
A member of the Camper Support Team was with a first time Unit B camper who was sad and missing home. This CA took notice as she was walking out of the dining hall with friends, walked over by herself and engaged directly with the camper.  She asked the camper if she was okay.  When the camper commented through tears that she missed home, the CA let her know that she understands and feels the same way sometimes.  The CA said that she was going to write home and asked if the camper would like her to come to her bunk so they could write a letter together.  The camper shook her head yes.  The CA mentioned she had to go to a training first to "learn to give out candy" (which got a little smile from the Unit B camper) and told her she would see her soon.
A CA overcame her fears and did a wonderful job on the ropes course.
Be brave and Shabbat Shalom!
Alicia
Today's Birthdays

Jordan – Bunk 28

Ella – CIT
UNIT SPOTLIGHT – Unit F  

 Since Unit F is the last year that campers can make bunk requests, there are many fun unit activities in store for the session to allow girls in different bunks to get to know each other! This week we did a Backwards Scavenger Hunt, which is something I used to love doing as a camper. The girls were split up into different teams and were asked to fill a laundry bag full of some of their random belongings. Each team was then asked to present different things for points, such as something to wear to prom or a time machine. They used what was in their laundry bag to create something that would fit the task! I was so impressed with the creativity in the unit and loved watching new friendships form!
Alyssa – Unit F Unit Leader
Today's Menu
Breakfast, Lunch, Dinner
Veggie & Cheese Omelets | Hash Browns | Veggie Sausage | Melon, Make Your Own Sandwiches | Turkey | Turkey Bacon | Hummus | Assorted Breads | Lettuce Tomato Onion | Pickles | Chips | Salad Bar | Pasta Bar, Shabbat Dinner | Challah | Grape Juice | Noodle Soup | Brisket | Chicken | Latkes | Roasted Veggies | Salad Bar | Pasta Bar
Today's Weather

High: 82°F | Low: 65°F – Really nice day!