Airy Blog
Director's Blog – July 27, 2015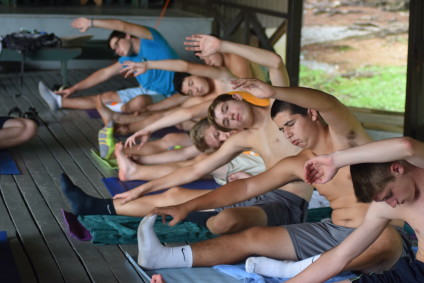 Let's all play the new game that's sweeping the camp … it's time for "Write a Caption." Feel free to play along at home.
Caption 1: "The Airy synchronized spelling squad goes through their morning practice regimen. They are working on the letter 'C.' The team has aspirations to perform an "Ode to the Pretzel' dance at an upcoming recital at Camp Louise."
Caption 2: "These campers were practicing yoga when unexpectedly, their counselor yelled 'freeze.' 'Freeze' is a dining hall game, and the first person to move is responsible for overseeing table clean up after a meal. This will be a true test of mind and body."
Caption 3: "Airy campers are using 'The Force' in one of our newest clinics, 'Jedi Training.' Their challenge here is to bring downhill closer to uphill, thus reducing the length and incline of the daily trek."
One of the greatest parts of camp is that there is always something to do that speaks to the individual. It's more than lip service when we say that a camper can explore activities that are athletic, creative and adventurous. It takes a diverse, talented staff to offer so many opportunities, like yoga, to campers. Many times at camp, we move at a frenetic pace, as there is always a reason to smile and celebrate. At camp we celebrate the ordinary and the extraordinary with the same zeal and zest. High-fives, handshakes, and hugs are all commonplace. We have morning dance parties on the way to Period 1. Mondays are great because our Israeli staff provide line-up laughs. And when pizza bagels are on the menu, look out!
It is equally awesome when our campers can relax, focus, and channel their energy in new outlets.
[bq_color]
Today's Birthdays

Jacob C.
Jared S.
Gideon S.
Noah Y.
… any my sister Karen, a Louise alum
[/bq_color]
Today's Menu
[table "" not found /]
Today's Weather

High: 88°F | Low: 72°F

Today was sunny and warm … a tad humid too.
Marty Rochlin
Director