Airy Blog
Director's Blog – July 27, 2016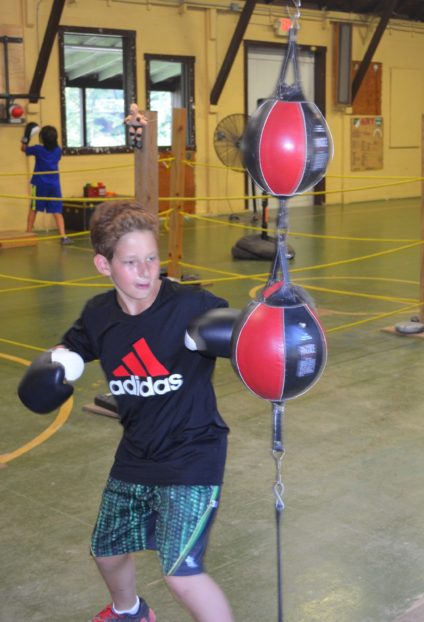 Camps Airy and Louise challenge each camper to "Find Your Inner Awesome." This blog has previously chronicled campers meeting and surpassing challenges in the arts, on the ballfields, and in the outdoors. Now it's time to add boxing to the list of new things for 2016. Not only did Airy welcome Assistant Director Aaron Gorman to camp, but also his mom Andra – a former competitive boxer.
So many staff at Airy bring unique skills to our programming options – and campers are the beneficiaries. An orientation theme for Airy staff was "What's you super power?" Expressed another way, what unique skill or talent did you bring with you to camp? We have a unit leader who played college baseball. We have a drama department counselor who will be testing his magician skills on "America's Got Talent." The staff also features a life guard who is college radio DJ, and outdoors staff who are studying in their college adventure sports institute, not to mention professional educators whose experience spans elementary, middle and high schools. We have two department heads who are consultants in their fields and are involved in training other camp staffs and professional organizations.
This talent and diversity is central to who we are as a camp. Our counselors in training work in multiple department areas so that they can share a skill while also learning a new one. A camper might be an introvert at home, but at camp he takes stage to perform. Athletes may come to camp and pursue offerings in multimedia. And all types of campers at Airy partake in outdoor adventures – experiences that they cannot routinely access at home.
Talented and diverse staff, encouraging campers to expand their horizons, in a community that encourages everyone to "Find Your Inner Awesome…"
In a nutshell, that's Airy.
Marty
Today's Birthdays
Noah
Jared
Jacob – staff
Karen – my sister
Today's Menu
[table "" not found /]
Today's Weather

High: 91°F | Low: 72°F
Warm and overcast – a pretty nice day!