Airy Blog
Director's Blog – July 27, 2018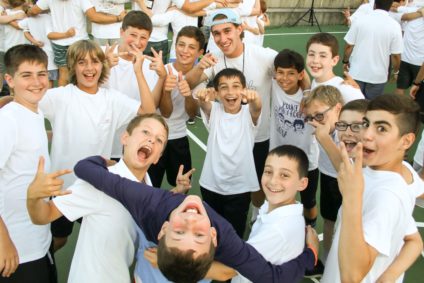 Here Comes the Sun
The first Shabbat of the Camp Airy 2018 Second Session brought about a chance for our camp family to collectively reflect on and give thanks for a wonderful (yes, and rainy) opening week. So many members of our community take part in weekly services and activities. Shy, Michael and our Cornerstone Fellows lead the services and provide the musical accompaniment. The Clay Family played a big role by helping with the lighting of candles and the blessing over the children. The pre-dinner service wrapped up with a rousing rendition of "Bim Bam," a tradition that decades of Airy campers share.
After dinner, we sing "Birkat Hamazon" with hand gestures and ruach facilitated again by the Cornerstone team. Sounds of claps and booms filled the dining hall. The same spirit continued when we gathered on the Village Row Basketball Court for a song session. This time, Shy and Michael were joined by Rachael and Shai who led dancing, as well as our whole compliment of Israeli staff and CITs. The session ended with the singing of our "Goodnight Song."
Before dispersing the campers to their assorted evening destinations, I took a moment to share that in this rainy week of camp, the dry days we really NEEDED were for the carnival on Thursday, and for our Shabbat celebration on Friday. And that's what happened – thanks Mother Nature! With a picturesque sunset in the background, campers and staff swayed while singing "Taps." Our day was done.
I am so proud of our young men and the camp spirit they exude. At the Carnival yesterday and with Shabbat tonight, their energy and enthusiasm seem to be in endless supply. The genuine way that they care for one another and for camp warms the heart.
Shabbat Shalom!
Marty
Today's Birthdays
Gideon
Noah
Cooper – staff
Today's Menu
[table "" not found /]
Today's Airy Weather

High: 89°F | Low: 67°F
Back to the broken record forecast – It was wet, it was dry, it was wet, it was dry …!