Airy Blog
Director's Blog – July 27, 2019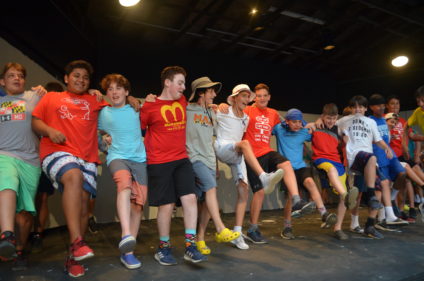 "Dance to the Music"

It's time, once again, for everyone to play the game that is sweeping the nation – "Caption This!" At first glance, today's blog picture appears to be a line of campers kicking or dancing in unison. Maybe. Or maybe, what's really going on is one of the following:
The campers are playing a new game called Centipede Twister. The spinner landed on "right foot read," but the team cannot quite decide if "right" means stage-right or audience-right.
OR …
This is actually a photo take from a recent camp trip to New York City, and these campers auditioned for roles with The Rockettes after camp. The tryout was going fine, at least up until a contract conversation started and the two sides reached an impasse on lights out times.
OR …
Our campers are part of a new Dr. Seuss traveling book program – "Step 1, Step 2, Croc Yellow, Croc Blue." In this spin-off and crossover story that connects "The Sneetches" and "Horton Hears a Who," our campers interpretively dance the Seuss classics with present-day pop culture. They can really whip and nae nae.
Whatever the real story may be (ask your camper about Karaoke Dance-off during in a letter or during your ride home after camp), when campers take the stage together to showcase talent and/or a sense of humor and playfulness, good things are happening. This week's middah (value) was gratitude. Let me take a second to say thanks to our staff member Mark. Mark planned and hosted our show tonight, and did so while also taking care of his camp job of Health Center Manager.
As we head to bed tonight, we focus on a new value – RESPECT – and also say goodbye to our Rookie 1 Campers. It was so much fun having them around, and we look forward to the Rookie 2 campers arriving on Monday.
So long until the next blog,
Marty
Today's Birthdays

Noah
    BLOG SPOTLIGHT – Camp Airy Unit F   

Hello and welcome to our Fiesta!
Fiestas originated from Mexico and translate into festival or event! Originally a religious event, it is now celebrated all over the world and brings joy to many people. Our aim this summer to ensure that we can bring this joy to the campers of Unit F this summer and ensure they have their own "Fiestas" in whatever way that means to them. This week we are going to have a fiesta party to celebrate the end of our time in senior camp and transition into trainees, although at the time a scary thought it is also a time to reflect and, again, celebrate everything that has got us to this point.
Tomorrow we are super excited to head downhill to CulinAiry with Kim and have a special meal. I am sure it is going to taste delicious!
David, Unit F Unit Leader
Today's Menu
Breakfast , Lunch , Dinner
Mini Bagels | Scrambled Eggs | Cereal | Fruit | Yogurt , Make your own Deli Sandwich | Potato Chips | Fixins | Pasta Bar | Salad Bar | Lemon Ice , Baked Ziti | Broccoli and Cauliflower | Garlic Bread | Pasta Bar | Salad Bar

Today's Weather

High: 87°F | Low: 86°F
Another gorgeous sunny day!