Louise Blog
Director's Blog – July 27, 2019
INTERNATIONAL SHOW
We are so fortunate at Camp Louise to have staff that represents 12 countries outside of the USA – Australia, Colombia, Czech Republic, Hungary, Ireland, Israel, Lithuania, Mexico, the Netherlands, Pakistan, Poland, and the United Kingdom.
Our internationals work all over camp – as bunk counselors, support staff, department heads, activity specialists, and unit leaders. They make Camp Louise a better place. They learn from us and we learn from them. We are so lucky to have them at camp!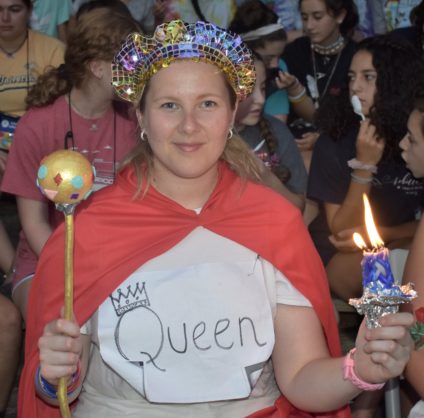 Tonight, the internationals got to showcase a little about their countries.  They sang, danced, and taught us their language.  Our meals today were international too!
I caught up with our Cookery Department Head Sam today as she was preparing for International Show. She shared some thoughts about her time at camp:
"Working at an all girls Jewish Camp abroad, can be a nervous thing, but it's also exciting and challenging. You get to meet people from all over the world, and everyone is so friendly and welcoming, which is one of the main reasons why I keep returning.
As a 6th year international staff member, who has had a variety of roles at camp, (including being an Outdoors Counsellor, a Cookery Counsellor, a CIT Counsellor and now a Department Head), I feel even more appreciated for the work that I do at camp by all staff.
Seeing the campers' faces each year when I return is just amazing. After all, it's all about making the campers happy and excited. The campers challenge themselves, trying something completely new and different and they come away, knowing that they have done well, it's just so lovely to see. 
This has truly become my home away from home, and I am so thankful that I found my happy place in 21719. I leave every year with a bunch of new memories and friends, and I start my countdown for the next year as soon as camp ends. It might seem crazy, but with being here for so long now, its hard to imagine my life without camp in it."
How lucky we are to have Sam here, as well as our incredible crew of internationals!
G'day! Buenas Noches! Dobrou Noc! Jo Ejszakat! Oiche Mhaith! Laila Tov! Labos Nakties! Goede Nacht! Shab Bakhair! Dobranoc! Cheerio!
Alicia
Today's Birthdays

Izabella – Bunk 15

Lexee – Aerial Arts Specialist

Mark – Cook
UNIT SPOTLIGHT – Unit B  

Today during our Super Saturday activities, I got the chance to be with a lot of my Unit B campers by the pool! The campers are always so excited to see their counselors by the pool, but extra excited to swim with them! They all get so much joy asking me the simplest things, like if I would go under water with them, do forward rolls, handstands, and all the water stuck in my ears, was well worth the huge smile on their faces! Hearing all their fun memories like racing friends on the slides, winning mermaid of the day, learning new swimming skills, and so many more all happen at their favorite place at camp, the pool!
Casey – Unit B Unit Leader
Today's Menu
Breakfast, Lunch, Dinner
Scrambled Eggs | Bagels | Berries, Israeli Lunch | Falafel | Hummus | Tahini | Tzatiki | Israeli Salad | Cous Cous | Pita | Salad Bar | Pasta Bar, Chinese Chicken | Beef | Stir Fried Veggies | Rice | Egg Rolls | Edamame | Oranges | Salad Bar | Pasta Bar
Today's Weather

High: 85°F | Low: 66°F – A gorgeous day here in 21719!