Airy Blog
Director's Blog – July 28, 2019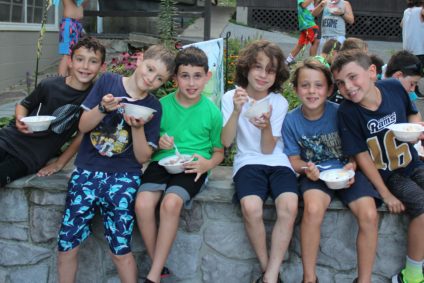 "I Love Rocky Road …"
Another blog title credit to "Weird" Al Yankovic, who sang about an ice cream flavor that we could NEVER serve in camp. Do you know how hard it is to find songs about ice cream? Slim pickings.
Camp and ice cream have a fun history. There's no better better place to start than "Make Your Own Sundaes." I can recall back to my days as a camper arriving at the patio outside of Bill's Place for this special dessert event. The CAs used to execute the sundae party – set-up, scooping, toppings, and running to get bunks to get in line. Tonight we had a choice of chocolate, vanilla or strawberry ice cream; there were chocolate and rainbow sprinkles; there was whipped cream, chocolate sauce and caramel sauce. Dee-lish.
Another iconic camp ice cream setting is Cabana. To call a Camp Airy Cabana milkshake "legendary" is perhaps an understatement. Cabana is camp's staff snack bar in the evenings. It was and is a place to gather, get some food after campers are settled for bed, and unwind. The most popular menu item, then and now, is milkshake. Back then, camp staff fixtures like Honey and Jessie worked the window and prepared orders. In recent years, various staff have shared the care of cabana – Melissa and Erin, for example, have instituted "mix-in Mondays" where staff can get their milkshakes with Twix, Oreos or M & Ms to name a few.
Campers will BEG staff for a cabana milkshake. Staff will offer cabana milkshakes prizes for things like winning inspection, a certain spin on the birthday wheel, and for Airy Auction prizes. Of course that's a no-no … but somehow the cabana police struggle to contain milkshake smuggling, and campers get a taste of the marvelous milkshakes.
Last ice cream fact, and it's one that is sure to reinforce how integral ice cream is to camp: Camp has 31 bunks – that was the number of bunks when I started as a camper in 1984, and it's the same today. We run a staff education program throughout the summer called … 31 Flavors. Their snack each week … ice cream. I scream, you scream, we all scream for ice cream …
So long until the next blog,
Marty
Today's Birthdays

Joey
    BLOG SPOTLIGHT – Camp Airy Dining Services   

This was an all-star food day at camp! Eggs and bagels for breakfast, including lox and cream cheese spread and slices of American cheese; Pizza and Caesar salad for lunch; an indoor burger-and-dog cookout for dinner … and later … wait for it … the whole camp enjoyed MAKE YOUR OWN SUNDAES! On a SUNDAY! What are the chances?!? Combine that with the fact that THE CHOCOLATE LADY is here this week, and we are in the Culin-AIRY catbird seat.
Yours in food,
Marty
Today's Menu
Breakfast , Lunch , Dinner
Scrambled Eggs | Bagels and Fixins | Cereal | Fruit | Yogurt , Pizza Squares | Caesar Salad | Salad Bar | Pasta Bar | Cookies , Burgers and Dogs | Buns | Corn | Fixins | Salad Bar | Pasta Bar |

Today's Weather

High: 90°F | Low: 71°F
Yet again … a splendid sunny (and warm) day!