Louise Blog
Director's Blog – July 29, 2015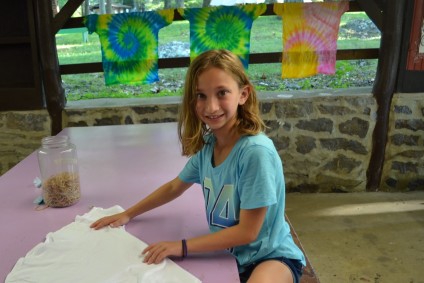 Rookie Camp 2015 is well underway. On Sunday, two full bunks of Rookie campers went home from their week of fun – exhausted and happy. On Monday, those two bunks were filled again with eager campers as their families dropped them off for a great week of camp!
Rookie Camp Director Karen Gerton runs this program – which is now in its 6th year. Karen has a long history with Camp Louise. She was a camper in the 60s. She then became a CIT and a counselor. Karen took a break to get married and raise a family, but she then returned to camp with her daughter in 1993. Karen's daughter is out in the "real world" and is unable to return to camp now, but we are so lucky that Karen keeps coming back! In Karen's "real world" – she is the Preschool Director at B'nai Israel in Rockville, Maryland.
Karen works hard with the campers and families of our Rookie campers, keeping the following goals in mind:
Providing a transition into the Camp Louise family for Rookies and their parents
Giving an opportunity to get a full taste of camp in a shorter session
Maintaining outstanding communication with Rookie parents before and during camp
I spent some time with the Rookies today and they were so eager to tell me about their experiences at camp. When I asked them why they decided to come to Camp Louise, they said:
My friends told me it was a lot of fun!
I get to be away from my brother.
My mom/aunt/cousins went here.
It's a family tradition!
One camper even told me that she is in the same bunk and she thinks the same bed number that her mom was in her first year at Camp Louise "a really long time ago."
I then asked the Rookies what their favorite part of camp is. I couldn't even write fast enough. They were so happy to tell me the many, many things they love about camp:
Swimming, drama, cooking
Getting mail
Being with my friends
Great counselors
And the best answer of all – EVERYTHING!
The Rookies have a few more days to experience all that Camp Louise has to offer! They are sure to come home (as the first weeks Rookies did) a little more tired, a lot happier, and definitely with that Camp Louise spirit that we know and love around here!
Alicia
[bq_color]
Today's Birthdays

Another no birthday day here at camp.  Happy UN-Birthday, everyone!
[/bq_color]
Today's Menu
[table "" not found /]
Today's Weather

High: 86°F | Low: 70°F – A hot day here at camp, a great day for the pool!