Louise Blog
Director's Blog – July 29, 2017
MIDDAH LESSONS FROM THE COWARDLY LION
As I discussed in last night's blog, every week we focus on a different middah and we strive to demonstrate that value here at camp. This week is courage/ometz lev which is fitting for so many reasons. Auditions were held earlier in the week for our big musical production Wizard of Oz.
As we can learn from the Cowardly Lion, courage is not about the absence of fear. It is dealing with difficulty in the face of fear. The Cowardly Lion demonstrates bravery throughout the show even before the Wizard grants him courage. The Lion is actually much braver than he realizes.
Our campers show bravery and courage every day at camp. Maybe they are nervous about making friends, jumping into the pool and taking the swimming test, climbing to a new level on the Adventure Park, getting on stage to perform, or trying a new food in the Dining Hall. They are encouraged by their counselors and bunkmates who help them tackle these new challenges.
When the Cowardly Lion is concerned enough for his friend Dorothy, he puts his fears aside and shows his bravery…well, mostly.
"Alright, I'll go in there for Dorothy. Wicked Witch or no Wicked Witch.
Guards or no guards, I'll tear 'em apart.
There's just one thing I want you guys to do: talk me out of it."
Check out our chalkboard –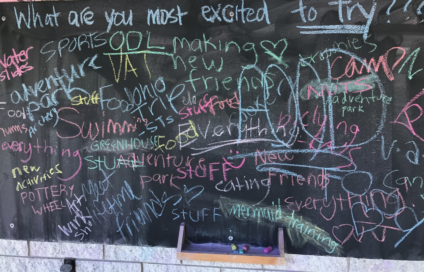 What are you most excited to try? Framing it in this way puts a positive spin on some of our fears. And if you are a bit (or a lot) overwhelmed, you may need to fake it for a bit until you truly feel courageous.
"Put 'em up, put 'em up! Which one of you first?
I'll fight you both together if you want.
I'll fight you with one paw tied behind my back. I'll fight you standing on one foot.
I'll fight you with my eyes closed…ohh, pullin an axe on me, eh?
Sneaking up on me, eh? Why, I'll…Ruff!"
Think about your own lives. Life is hard sometimes. Not dealing with issues that come up can be easy, but facing fears head on makes us stronger. Is there something you have been wanting to try that you keep putting off? How can you start accomplishing it with a little bit of courage and encouragement?
You don't need to wait for the Wizard…
 "You, my friend, are a victim of disorganized thinking.
You are under the unfortunate impression that just because you run away you have no courage;
you're confusing courage with wisdom."
Be brave, start on your path and:
"Follow the yellow brick road!"
 Alicia
[bq_color]
Today's Birthdays

Drew – Bunk 27
[/bq_color]
Today's Menu
[table "" not found /]
Today's Weather

High: 72°F | Low: 56°F – A bit rainy this morning but the sun peeked out by the afternoon and it was a cool but beautiful day!