Airy Blog
Director's Blog – July 29, 2018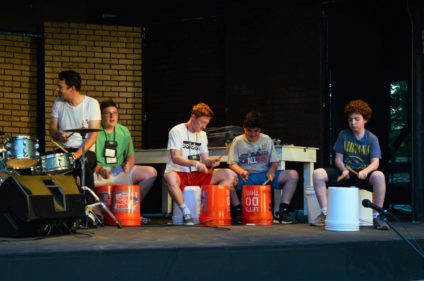 "I Wanna Bang on the Drum All Day"
Week six of camp started off with a bang, quite literally, with the return of the Airy Percussion Project. Kicked off in 2015, tonight's performance featured three professional musicians – headlined by Glenn Grossman. Blog readers that have daughters and loved ones at Camp Louise may recognize Glenn's name (along with wife Naomi Less) as the musicians who lead and teach in the "Jewish Chicks Rock" program. Sunday's show also served as a commercial for drum clinics that Glenn will lead at camp in the coming days.
The blog picture shows a few of our Airy boys up on stage performing with the professionals. Their arrival on stage was spontaneous – Glenn simply asked over the mic "Can I get a few drummers?" Moments later, Max and Harrison and Noah and Joey were playing buckets. The guys looked like they belonged up there, keeping the beat and perfectly blending with the pros.
Not pictured but certainly worthy of mention is how Ben and Michael from Airy's Music Department arranged to record the evening's performance. Our Airy music program has added to its offerings this summer with digital music. Traditional stalwarts like guitar and drums have been joined by iPads and other technology. This provides Airy staff and campers yet another way to "find their inner awesome."
The evening would not have been complete without our "Goodnight Song." With the percussionists on stage joining Shy on guitar, camp sang and swayed together. We look forward to the percussion clinics, as well as the arrival of our new Rookies. And there's a rumor about a pending special announcement regarding the Airy Olympics…
Until the next blog,
Marty
Today's Birthdays
None – Happy Unbirthday to All!
Today's Menu
[table "" not found /]
Today's Airy Weather

High: 83°F | Low: 66°F
Another beautiful day at Camp!