Louise Blog
Director's Blog – July 29, 2019
MEDIEVAL TIMES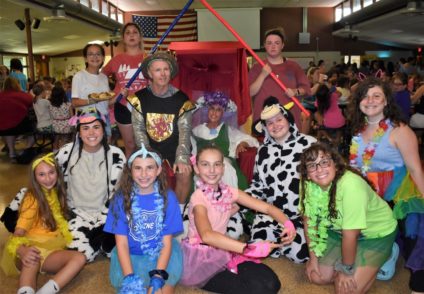 You never know what a day at camp will bring. After an enjoyable day of activities, welcoming our new Rookie campers, and having all-around general camp fun, we headed into dinner only to find Medieval Times music playing outside of the Dining Hall. What could this mean?
Let's go into the Dining Hall to find out. It was dark-ish and in the center aisle, there was the royal family – the queen and king on their throne, along with their knights standing guard and their noble steeds/cows kneeling around them. As you can imagine, it was quite the photo opp!
We enjoyed our roasted chicken medieval dinner without silverware – yes, you read that correctly. No silverware for dinner! Remember – it's medieval times.
After dinner, we enjoyed some entertainment – jousting with the knights and their steeds/cows.
Only at camp do we turn a regular chicken dinner into this! What a fun night!
And the girls in the front in tutus and leis….why? Because it's camp! And we love it!
I wonder what tomorrow will bring…
Alicia
Today's Birthdays

Drew – Bunk 35
UNIT SPOTLIGHT – Unit C 

On this sweaty, late-July day, campers in Unit C soaked up the sun and did their best to absorb all the best parts of Junior Camp. After their evening activity, a couple of the Unit C bunks headed to our camping area to toast s'mores, reflect on their day, and sleep below the stars during NUTS (Night Under The Stars) which is a tradition that only Junior Camp takes part in. As they drifted off to sleep, many campers practiced meditation techniques that counselors taught them or listed things that they were grateful for. Staff and campers in Unit C – and all around camp – have a lot to be happy about at the end of the day! Campers and counselors can agree that there is no better summer home than one where people can grow, be silly, be supported by a community of strong women, and reach for the stars.
Izzy – Unit C Unit Leader
Today's Menu
Breakfast, Lunch, Dinner
Bagels | Lox Spread | Cream Cheese | Tomatoes Onions Cucumbers | Scrambled Eggs | Oranges, Pizza Squares | Caesar Salad | Sauteed Veggies | Zucchini Fries | Salad Bar | Pasta Bar, Medieval Times Night | Roasted Chicken | Oven Roasted Potatoes | Corn | Broccoli | Rolls | Salad Bar | Pasta Bar
Today's Weather

High: 88°F | Low: 72°F – Another sunny day!