Airy Blog
Director's Blog – July 3, 2015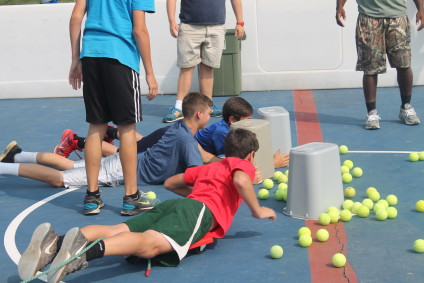 One of the coolest moments of our morning saying "good bye" to campers was when I received a call on the radio from a division head. "Marty … can we come see you? I'm with a family whose camper wants to stay for two more weeks." I just started smiling. How great is that!? A camper was packed to go home, had hugged mom and dad, and saw all of his bunkmates get picked up. And still he had his mind set on two more weeks at Airy. I knew why – instantly. He was staying because of the great staff we have here at Airy.
The picture in today's blog is a great example. Camp was running a modified schedule today. A group of staff decided to run "Hungry Hungry Hippos." I may have seen that on YouTube at some point, but I never gave a second thought to implementing it. These guys made it happen. It is creative staff like this who come up Airy favorite activities like Wauwatosa, ABC Relay, Capture the Counselor and more. When I was a camper, I recall original games like British Bulldog, Triangle Soccer and Hungarian Handball. I remember "reality shows" like Casino Night and Stock Market Day.
Our Shabbat this week was unique as well. During song session, we were fortunate to have musical accompaniment from not only Kevin and Shy, but also Cantor Wally, Channa, Naomi Less and Glenn Grossman. Village Row was rockin' with ruach.
These kinds of things can only happen at camp, when you consider folks' talent and creativity, the bonding with friends, and the history of Airy. I look forward to tomorrow when we celebrate July 4 with music at "AiryLouise-Stock."
[bq_color]
Today's Birthdays

None
[/bq_color]
Today's Menu
[table "" not found /]
Today's Weather

High: 82°F | Low: 59°F
A mostly sunny day during check-out and activities, then a bit overcast through the evening.
Marty Rochlin
Director