Airy Blog
Director's Blog – July 2, 2015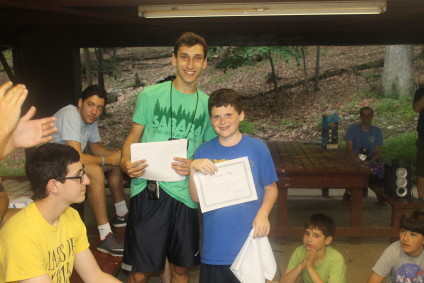 Graduation celebrations were occurring in Airy Units C and F last night, marking the transition into Senior and Trainee Divisions for some rising 6th and 9th graders. Each of the three Airy divisions has its own special and unique qualities, but just like it's a big deal for children to move on to middle or high school, it's a big deal to look forward to a new chapter at Airy.
I had the opportunity to attend the festivities in Unit C. This group holds a special place in my heart, as I know several of the boys and their families personally. A few attended elementary and/or religious school with my daughter. I have spent time outside of camp with some of the parents. So seeing these campers "move" from Junior to Senior division was quite cool.
Kudos to the leaders of this group – Unit Leader Josh and Division Head Melissa. Their collaboration and creativity paid off. The campers gathered at a pavilion. Older campers from around camp said a few words to the graduates, reminiscing about summers in younger units and sharing what they enjoyed about being in the older group. Each graduate received a "diploma" and a gift – you can sort of see it in the picture, but I won't give any more detail … I don't want to ruin the surprise for any Unit C campers will graduate during a later session.
Near the end of the event, Josh asked me to share a few words. I thanked the boys for being a part of a great start to the summer, and asked them if they had to tell me now about returning next summer, what would their answer be? Everyone gave me a "thumbs up;" some asked if they could stay two more weeks. That kind of response is super-gratifying and a testament to the Airy staff that care so much. I concluded by pointing to the counselors assembled and asked the boys to "keep coming back and one day you'll be here attending this graduation as staff." They clapped and cheered.
We wish our two-weekers well, and a safe journey home. We will save a bed for you next summer at Airy.
[bq_color]
Today's Birthdays

None
[/bq_color]
Today's Menu
[table "" not found /]
Today's Weather

High: 73°F | Low: 63°F
Overcast, but dry all day
Marty Rochlin
Director