Airy Blog
Director's Blog – July 3, 2016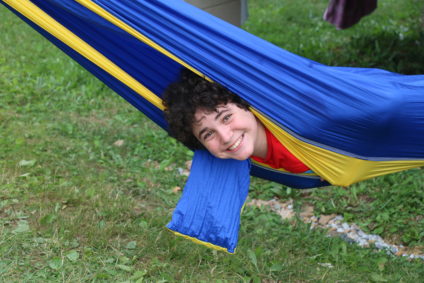 I couldn't resist. The picture – does it get any better?
Often times, our camp blogs highlight a program or a group of people. A picture (this session supplied by our camp photographer Britta) tells part of the story, and then I try to tell the rest of the story about how all of the pieces fit into life at Airy.
MegaZip and Go Karts and Baseball and Campouts are all examples of awesome programs and facilities that we have at Airy. But summer memories are made, and 92 years of history are founded, on the spontaneous moments that occur each and every day.
What exactly is happening here? A camper in a cocoon? A new parachute activity that ended with a twist? The smile is great – and so is the hair. This picture says to me:
"I'm having fun."
"It's OK to be silly."
"How did I get into this?"
"Who will get me out of this?"
"Why is that photographer taking my picture and walking away?"
"I'm stuck."
All kidding aside, what this picture says to me is Camp Airy is a place where we can be ourselves, act spontaneously, play, and enjoy moments. Linked together, these moments make summers, and make a lifetime of memories.
The memory making will continue through our celebrations of Independence Day on July 4.
Marty
Today's Birthdays
none
Today's Menu
[table "" not found /]
Today's Weather

High: 75°F | Low: 61°F
An overcast, but dry Sunday to start our 2nd week of camp.