Airy Blog
Director's Blog – July 3, 2017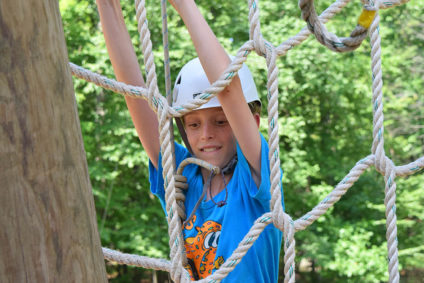 "Things that make you go hmmm"
Our talented and active Airy Digital Media Team – Nicholas, TJ, Britta and Noa – trek across camp each day to catch campers having fun and enjoying all of our activities. Sometimes, we catch a camper at the perfect time – like today's picture – and we can have some fun with it.
It's time for another installment of "What is he thinking?" We surveyed campers, and here's what some of them said:
"They promised me a Cabana milkshake if I did this."
"Should I try the 'look ma, no hands' schtick now?"
"I'll do anything for Rocky's Pizza … wait … we're getting Rocky's on Thursday?"
"I know why I'm up here … but you're up here with a camera?!?"
"I did it. The counselors challenged me. My bunkmates encouraged me. I'm so psyched."
At camp, we help campers every day to overcome obstacles and exclaim "I did it." Getting in the deep end of the pool, camping in a tent for the first time, and negotiating the Scissors Tower are great examples. For other campers, proudly exclaiming "I did it" comes from trying a new food, making a new friend, or realizing that it's alright to be (a little) homesick and happy at the same time.
As we work our campers throughout this session and the whole summer, it is our hope that "I did it" leads to "I can do it" for anything that the boys face.
Marty
Today's Birthdays
Sammy G.
Today's Menu
[table "" not found /]
Today's Weather

High: 93°F | Low: 68°F
Warm, and then hot, and finally a lovely evening