Louise Blog
Director's Blog – July 3, 2017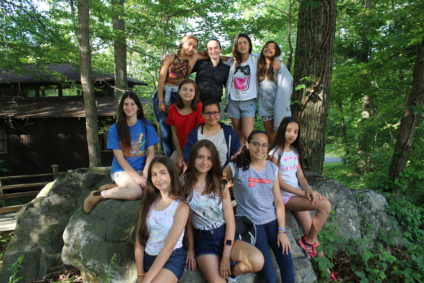 BALTIMORE'S SISTER CITIES
Last year, we started a wonderful partnership through The Associated: Jewish Community Federation of Baltimore to bring campers from Ashkelon (in Israel) to Camps Airy & Louise. When Jonathan (Executive Director), Marty (Director of Camp Airy), and I went to Ashkelon to recruit campers for this summer, all 5 girls from last year attended the event. While most of the evening was spoken in Hebrew, I didn't understand most of what was being said. However, the smiles and enthusiasm were quite evident as the girls spoke so positively about their experiences at Camp Louise. It is a testament to our program that 4 out of 5 of the girls are back for a second year. The one who was unable to return (because her sister was getting married during the time she would have been at camp) spent the majority of the evening in tears. That pretty much says it all!
Going into our second year of this partnership, we were so excited to welcome another Associated sister city into our community. In addition to the 7 campers from Ashkelon, we also have 4 from Odessa (in the Ukraine).
I have talked with our international campers about their experiences at Camp Louise. They feel that it is a wonderful opportunity not only for themselves but for the American campers as well. It adds to the diversity of camp and it is definitely interesting to learn about American culture and to share their culture with us. They shared with me how much they are enjoying the activities here – including boxing, folkdance, music, swimming (and the waterslides!), Adventure Park, cookery, greenhouse, and glass fusion. They are teaching their bunkmates their languages and they are getting involved in camp life.
It is hard to believe that half of their time with us is almost over. We still have so much to learn from them and with them before they pack their bags for their travels back home. And on that trip, they will certainly be carrying much more than just the clothes they came with. They will have some arts and crafts projects, an extra camp tee shirt, and most importantly – lots of memories and new friendships.
As they say:
in the Ukraine – Spokoinoi Nochi
in Ashkelon – Lailah Tov
and in Cascade – Good Night!
Alicia
Today's Birthdays
Robert B. – Staff
Pam F. – Staff
Glenn G. – Staff
[/bq_color]
Today's Menu
[table "" not found /]
Today's Weather

High: 89°F | Low: 66°F – Another sunny day!