Airy Blog, Louise Blog
Directors' Blog – July 3, 2018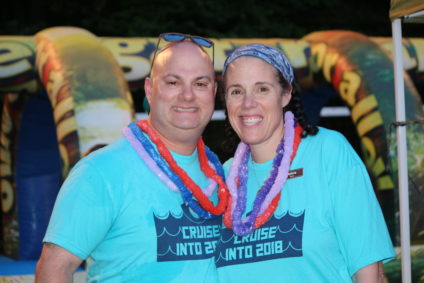 Oh BUOY! You won't believe what a great time we had at our Airy and Louise Cruise-a-Palooza Carnival!
We all gathered at Camp Louise for a night of FERRY fun activities. Louise campers from Units E, F and STs ran booths and games for all to enjoy! The CITs put on their annual haunted house.
We had so many FIN-tastic activities; it was hard to get around to all of them, but our campers of course SEASed the day and did not miss the BOAT. Check out the pictures for:
• Coconut Climber Rock Wall
• Mist tent
• Water Balloon Battle
• Mind Winder Ride
• Ollie Gator Alley Water Slide
• Green Screen photos – with cruiseship backdrops, of course!
• Dunk Tank
• Mini Golf
• Corn Hole
• Balloon Art
• Face painting
Snacks included fruit skewers, Kona Ice, pop corn and waffle sticks.
After junior and senior camp campers headed back to bunks and buses, the Airy and Louise trainees were guests at a VIT event … Very Important Trainee. The team from Elektra Entertainment cranked the tunes and the ship was rocking from all of the dancing. Trainees also had a sweet treat from a visiting donut truck.
Everyone SHORE had a great time – and good thing because that was our PORPOISE!
Marty & Alicia
Today's Birthdays
Airy – Sam, Ryan, Max
Louise – Happy Un-Birthday to Everyone!
Today's Menu – Airy
[table "" not found /]
Today's Menu – Louise
[table "" not found /]
Today's Airy AND Louise Weather

High: 93°F | Low: 73°F
Hot, but not quite as hot.