Airy Blog, Louise Blog
Directors' Blog – July 3, 2019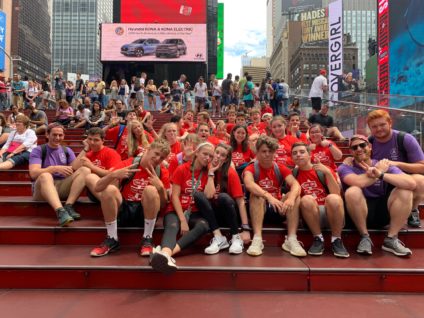 "I want to be a part of it …"
New York, New York!
Thank you to Marty and Alicia for allowing me to have a night on their blogs! Today was a great day for the over 100 campers and staff that went on our NYC trip!
Alicia and I started the NYC trip at Camp Louise 12 years ago to give campers a chance to see a Broadway show – and to continue to promote Camp's programs for the arts. A few years later, we started offering the trip to Camp Airy campers as well – and more and more boys have joined the trip for a great experience in NYC! This is my 34th trip to New York City with Camp – and honestly it never gets old.
We started off very early in the morning on air conditioned coach buses and made great time getting to The Big Apple (this would not hold true for the return trip – keep reading!) Campers got into their groups and started seeing the sights of the Times Square and Rockefeller Center areas. CITs from both camps went straight to Times Square to take some great group photos before separating into smaller groups for their walk around Times Square.
While I give each group a scavenger hunt that will give them a great tour should they not have their own plan, many of the campers (especially those who have been on the trip before) have their favorite places they like to see – shopping, food, and more!
Campers arrived at their theater to see either Wicked or King Kong. For some, this is the first Broadway show they've ever seen – a truly memorable experience. After the show, many lined up for autographs outside the theater before their groups grabbed some dinner and went to the meet-me point for the return trip.
Both buses and all groups were on time – it was looking great… until the bus driver told me about an accident outside the Lincoln Tunnel that has completely snarled traffic in New York City. We haven't moved far as I write this blog… but the campers are entertained with movies and snacks. It's definitely going to be a late night!
Nap time!
~ Neil Berlin
Director of Operations, Camps Airy & Louise
Today's Louise Menu
Breakfast, Lunch, Dinner
Blueberry and Plain Pancakes | Scrambled Eggs | Melon, Soy Tacos | Salsa | Guacamole | Cheese | Veggies | Rice | Churros! | Salad Bar | Pasta Bar, Turkey Meatball Subs | Marinara Sauce | Broccoli | Cauliflower | Salad Bar | Pasta Bar
Today's Louise Weather

High: 86°F | Low: 69°F
Warm, sunny day with an early evening passing storm
Today's Airy Menu
Breakfast , Lunch , Dinner
Yogurt Parfait | Granola | Cereal | Fruit , Not-Soy Tacos | Rice | Salad Bar | Pasta Bar | Churros , Cheese Ravioli | Eggplant Parmasean | Caesar Salad | Salad Bar | Pasta Bar
Today's Airy Weather

High: 87°F | Low: 71°F
Mostly sunny, then a quick afternoon mini-storm.