Airy Blog
Director's Blog – July 30, 2015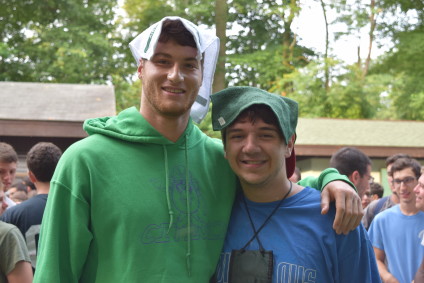 A tradition unlike any other – the Camp Airy Olympics! At Airy, we conclude each long session with our Olympics. Other camps may have their Color War or Color Games or their Macabiah. Airy does Olympics – and we do it well.
The guys featured in the picture were selected "General" of their teams. Danny for the Green team, and Ethan for the White team. You can see them wearing their team rally towels – and all campers will receive a team towel as well. The entire camp will be assigned to either Green or White, and beginning Thursday next week we will be all Olympics all the time.
How we announced this session's generals is a story worth telling. It's always a surprise to the camp community. Our plan was to use our daily birthday "schtick" to announce the generals. At line-up, we recognized three staff birthdays and sang to them. Per our new custom, we also find an "unbirthday" person to receive a gift. This morning, instead of pulling a name out for the box, I pulled out a wrist watch. Looking puzzled, and with the crowd collectively confused, I announced "The official Camp Airy Olympic time is 8:21 am." Before I could say another word to the excited crowd, three staff members – this session's Airy Olympic Committee – ran up to me and insisted that I stop. They went on to explain that our trainee division campers and staff were still asleep – how could we make the announcement without them? Simple enough … we moved the whole lineup down to their bunk areas. We woke them up, got everyone's attention, and made the special announcement.
Olympics mark the intersection of fun, competition and tradition.
Green will compete against White in song, sport, swim, flag design, wacky games, inspection scores, skits and so much more. Campers and staff will be draped in Green or White attire for the Olympics from start to finish. In most years, the champion is decided in the Tug o' War on the last afternoon of Olympics. Each General, supported by his braintrust of "lieutenants" from all parts of camp staff, decide upon a theme for the team. Campers dress and act the part for pep rallies and cheers.
I know Danny and Ethan will help provide a great event for our campers.
Thinking back to my first summer as a camper in 1984, Olympics was a big deal then. And I'm glad to say that nothing has changed.
Today's Birthdays

none
Today's Menu
[table "" not found /]
Today's Weather

High: 90°F | Low: 68°F

Today was sunny and hot before cooling off nicely at night.
Marty Rochlin
Director