Airy Blog
Director's Blog – July 30, 2016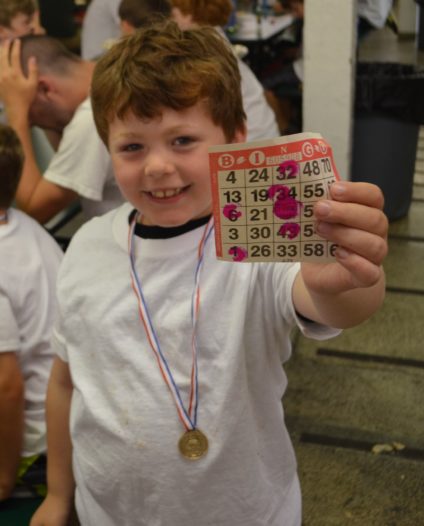 "There was a farmer had a dog and Bingo was was his name-o …" When the whole camp is together for lunch, and the weather turns from clear to stormy, and we need an activity to pass the time, Camp Airy goes to Bingo. I tell you this – campers and staff never seem to clear and clean their tables after a meal faster than when Bingo is announced.
In the blink of an eye, paper cards are passed around and ink dobbers are delivered. Our antique bingo board looked down on the crowd approvingly as Assistant Director Jason announced the rules of play (today players were working for the letter I … i.e. the top row on the card, the "N" column, and the bottom row on the card). And then in a twist, one of our counselors Josh took the mic for the game's number calls.
"Buckle my shoe, it's N 32"
"Man alive, it's B 5."
"So many trombones – it's O 76."
You get the idea. Campers and staff alike play the game. The crowd "ooohs" and "aahhs" at each number, and of course groan at each silly Bingo number announcement. Per Jason's directions, players waiting on just one number to shout out a victory stood up. And then as the sun began to shine outside, a camper named screamed "BINGO." Everyone held their breath – bunkmates wanted him to win (we do many whole bunk prizes at Airy) while campers in other bunks secretly hoped that the game would continue. Jason scanned the card, checked his list, and the Bingo was confirmed. The bunk prize … a trip to our Thurmont neighbor "Candy Land" sometime in the next two weeks.
I think I'll chaperone that one.
Marty
Today's Birthdays
Stephen – staff
Matt – staff
Today's Menu
[table "" not found /]
Today's Weather

High: 88°F | Low: 75°F
Stop me if you've heard this before – it rained a bit.