Airy Blog
Director's Blog – July 30, 2017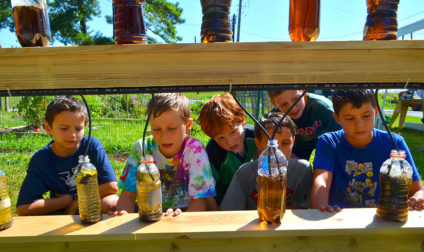 "This Land Is Your Land"
One of then most beautiful and underrated parts of camp is Airy's scenic, natural landscape. Nestled in the Catoctin Mountains, our 400+ acres are picturesque. They provide the perfect setting for our nature, hike and outdoor adventure programs.
New this summer, we introduced the our campers to "The Open Greenhouse" from Kibbutz Ein-Shemer in Israel. The Open Greenhouse brings an innovative way for campers to discover more about their responsibilities to the world as well as the joy of working the land. Campers take part in activities that include growing their own vegetables, creating a hydroponic organic farming system, and learning about the role algae can play in feeding the world.
Pictured today is a group of campers observing the algae wall. Period after period, campers are riveted on the activity in greenhouse. Two staff, Luke and Dekel, oversee the greenhouse, and Airy nature staff (Ann and her team) participate with campers in activities.
Over the years since its creation in 1977, the Greenhouse at Kibbutz Ein-Shemer has developed an out-of-school destination that serves hundreds of educational institutions across the Israel. The study programs in the Greenhouse are integrated within formal and informal curricula and welcome visitors that include Birthright groups, teachers in training and families. On the day we visited in April, a student group from Romania was learning in the greenhouse.
We look forward to our campers working and learning in the open greenhouse, adding to the ever-growing list of "amazing things at camp that you can't do at home."
Marty
Today's Birthdays
Stephen – staff
Matt – staff
Today's Menu
[table "" not found /]
Today's Weather

High: 77°F | Low: 57°F
A chilly morning, followed by a beautiful day.