Louise Blog
Director's Blog – July 30, 2017
THE RESPONSIBILITY OF TZEDAKAH
During Shabbat services this week, Rabbi Elissa told us a story about tzedakah being the Jewish responsibility to take care of other people and the world. We spent yesterday afternoon participating in three different activities relating to tzedakah.
As part of our Louise Lends a Hand (community service program), everyone had the opportunity to make items to be donated to Paul's Place in Baltimore. Campers made sack lunches and casseroles for families in need.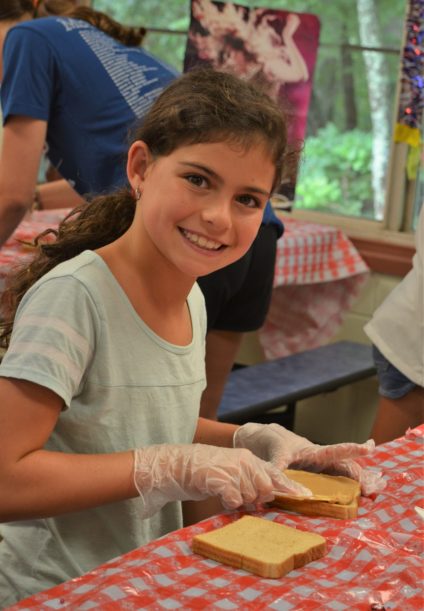 Some campers talked about how different parts of their bodies can help them with tzedakah. It's not just about money. It's about time, energy, and other resources. They can use their legs to run a marathon, their hands to make sandwiches or casseroles like we did for Louise Lends a Hand, their hearts, minds, and voice to promote their favorite nonprofits through word of mouth.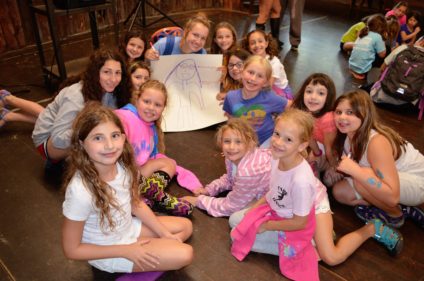 Our Cornerstone Fellows taught us about two organizations:
THON is the largest "student-run philanthropy committed to enhancing the lives of children and families impacted by childhood cancer." Their mission is to "provide emotional and financial support, spread awareness and ensure funding for critical research – all in pursuit of a cure." THON's annual work ends in a 46 hour dance marathon and today we learned a dance from the marathon!
Love Your Melon is an organization founded by two college students who simply wanted to give a hat to every American child with cancer. Their mission is "to improve the lives of children battling cancer."
After learning about THON and Love Your Melon, campers were given the task of creating their own not-for-profit to help others.  They also came up with a fundraising idea to start their organization. A few of the concepts we heard included:
Collecting sports equipment to donate to underprivileged children through a fundraising game
Providing clothing to help people going on job interviews and raising money through a makeup brand
Making care kits for homeless people so they could have some comfort and necessities by collecting toiletries and other products through a lock-in
Providing funds for the future for families who have lost a loved one in the military
We also spent some time with our Shlichim (Israeli staff) learning about an incredible organization that one of their uncle's began. Aleh is "a global community based on the principles of sensitivity, commitment and kindness, making a difference in the lives of Israel's most vulnerable children and building a better, more caring world."
Our campers made cards and wrote notes that our Shlichim will bring back to give to the children at Aleh.
We had an amazing afternoon learning about how to give tzedakah in a meaningful way. We talked about finding your passion and using it to help others. There is no doubt that our campers at Camp Louise are well on their way to changing the world!
I could not be more proud of our amazing camp community!
Alicia
[bq_color]
Today's Birthdays

No Birthdays Today – Happy UN-Birthday, Everyone!
[/bq_color]
Today's Menu
[table "" not found /]
Today's Weather

High: 83°F | Low: 61°F – An amazing cool-ish, sunny, beautiful day!