Airy Blog
Director's Blog – July 4, 2016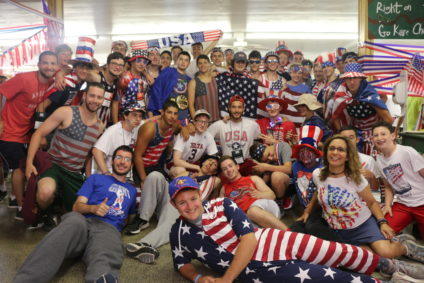 Happy Birthday America! The Fourth of July at Camp Airy is always a fun and special day. Some parts of the day are steeped in traditions, and others are new and creative twists that have come along. In an unexpected development, the Airy CITs rang in Independence Day at 12:01 am by waking up Village Row with cheers and whistles. After going back to bed, camp then gathered at our 8:15 am morning line-up. We sang the "Star Spangled Banner" and "Hatikvah"- followed by Hamotzi, of course. In another unexpected twist, the CAs unveiled their "Rochlin 2016" campaign shirts. I was shocked and flattered. Campers and staff arrived in the dining hall to see a plethora red, white and blue covering walls and pillars. While we ate, a toe-tapping Independence Day playlist provided musical ambience. "Coming to America" and "Party in the USA" seemed to be crowd favorites.
Campers returned from their morning activities to a classic American lunch – hamburgers and hotdogs. While we ate, the rain clouds rolled in and darkened. As we left the dining hall, the rain began. But did it dampen our July 4 spirit? Never! Our always creative Airy staff jumped into rainy day mode, facilitating fun uphill and down. We gathered again as a camp for dinner, this time enjoying a Thanksgiving feast. With the rain sticking around, we modified the evening program for a movie and snacks event.
The good part about this rainy 4th of July is that there is still MORE great fun in store for the campers. The weather forced a postponement of a "Declaration of Independence" scavenger hunt, and a skate park show from AJ Kohn and his team. We look forward to sharing both of these with our campers. And in just two short days – even more fun! We have the Airy / Louise Carnival with fireworks!
Marty
Today's Birthdays
none
Today's Menu
[table "" not found /]
Today's Weather

High: 70°F | Low: 66°F
Dry and overcast in the morning, then rainy the rest of the day.