Louise Blog
Director's Blog – July 4, 2017
HAPPY 4TH OF JULY!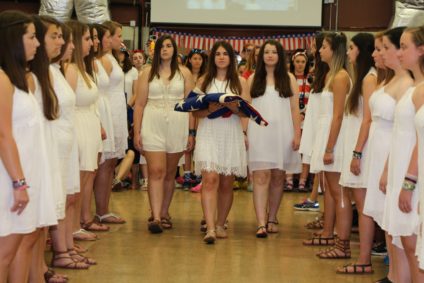 Close your eyes and picture it…
A dining hall filled with 600+ people quietly and eagerly waiting for our July 4th ceremony to begin
Battle Cry of Freedom being played on the piano repeatedly – If you don't think you know it, you probably do.  Google it.  But I warn you…the tune will be stuck in your head for quite awhile!
37 CITs all proudly dressed in white marching into the dining hall
Our camp paparazzi flashing LOTS of pictures and taking video
Some former CITs tearing up a bit (or sometimes more than a bit)
This year's CAs dreaming of their moment next year
I had a chance to talk to this year's CITs about the July 4th flag raising.
Many of them who have been here during first session have been waiting for this moment since they were in Junior Camp. They cannot believe it is finally here. They told me that for so long they have been watching it from their tables in the dining hall. It is hard to believe that now it is finally their turn.
For the second sessioners, they have never experienced July 4th at camp, but they have most definitely heard all about it.
For everyone, they feel the importance of their "first serious official camp tradition." It connects them to the many years of CITs that came before them. It is bigger than wearing overalls to an Airy dance or dressing in crazy costumes for Welcome Show. This is the moment where they stand in front of the entire camp as the 2017 CITs.
They are nervous, excited, and they feel "so old" but in a really cool, crazy way. They also shared some advice for next year's CITs:
Shop early for your white dress and order lots of options.
Happy 4th!
Alicia
[bq_color]
Today's Birthdays

Happy Birthday, America!
[/bq_color]
Today's Menu
[table "" not found /]
Today's Weather

High: 84°F | Low: 80°F – A hot day with some passing rain that didn't stop us from our day of July 4th fun!