Louise Blog
Director's Blog – July 4, 2018
CIT FLAG RAISING THROUGH THE YEARS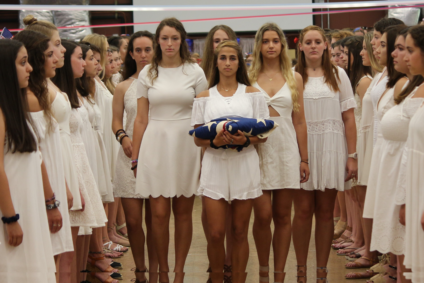 What a busy, busy day here at Camp Louise! After a full morning of activities, we all gathered in the Dining Hall for our CIT flag raising ceremony. This is a day that the CITs have been waiting for. They have shopped for their white dresses and (sometimes) fancy (for camp) shoes, they have practiced all week, and now they get to shine!
Times are different now. When I was a CIT in 1987, Miss Sara (the long-time Director of camp) chose the girls who would raise the flag. The rest of the CITs were part of the honor guard. We never knew how she chose; we just knew that it was something pretty special. We didn't dress up. We simply wore our Shabbat whites. But it is funny to look back and think about the CITs Miss Sara chose that year to raise the flag. Three of us are still at camp now – 31 years later!
Now, we count up the sessions that the CITs have been at camp through all of their years. The ones with the most amount of weeks are recognized in the ceremony as the flag raisers.
After today's ceremony, I had a chance to talk to Anne, one of our staff members here at camp. Anne raised the flag her CIT summer in 1980 and now she got to see her daughter Izzy raise the flag today.
Anne said, "It's so full circle, so fulfilling. It's a legacy that lives on. It's just indescribable. I feel so very proud. Camp Louise has instilled something so important. Raising the flag on July 4th is very symbolic, but it is also so much more. You know this will sustain. There is permanence and longevity."
It is obvious that Anne and Izzy share something so special – the bond of Camp Louise. I feel so genuinely lucky to be a part of something so special!
We talked about how the younger campers are already trying to figure out who will raise the flag when they are CITs. I love that! How can you not?
Happy 4th of July!!
Alicia
[bq_color]
Today's Birthdays

Olivia – Outdoors Counselor
[/bq_color]
Today's Menu
[table "" not found /]
Today's Weather

High: 89°F | Low: 75°F
Sunny this morning with some afternoon rain that definitely cooled things down!