Airy Blog
Director's Blog – July 4, 2019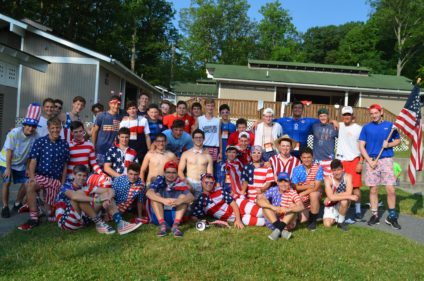 "Living in America"
The 4th of July at Camp Airy is one of the most anticipated days of the summer. It is an opportunity for fun, creativity, excitement and celebrations. Our CITs continued a long standing tradition of exuberantly waking up the entire camp. Adorned in red, white and blue regalia, the CITs woke up camp and invited everyone to a lineup on the Village Row Basketball Court. The festivities included a dance party, a skit, the Star Spangled Banner … and two surprises: the revealing of the Creative Arts Department's July 4 shirt, and a pie in the face for … me. Special shoutout to the CITs and staff who were on the LONG New York City trip the day prior and brought great energy despite only a few hours of sleep.
Everyone headed downhill in the morning for rotations that offered wacky-patriotic relays, an "Amazing Race" inspired scavenger hunt, and a pool party. Lunch followed, and it was a CLASSIC … a BBQ picnic with bands playing on the ballfield. We next threw in two more surprises – a passing rain shower, and a visit from the Kona Ice truck. We quickly finished lunch and sent campers and staff under cover. Kona Ice then drove through camp, like the ice cream man would drive through neighborhoods, delivering treats all throughout camp. Four-hundred-and-thirty-five treats later, we waved goodbye.
As if that weren't enough, we wrapped up the day with a camper talent show, one more star spangled banner performance from Sammy, and announcement about Olympic Generals.
Just kidding. But the crowd REALLY thought the announcement was coming. There was a dance party, then an exodus back to bunks to allow two weekers to finish packing, and of course ROCKY'S PIZZA.
We wish our two-weekers well, and look forward to a few days from now when we welcome 124 new campers.
So long until the next blog,
Marty
Today's Birthdays

Jesse S.
    UNIT SPOTLIGHT – CAs    

CArds, CApture the counselor and CAnada. WOW the CA's first 2 weeks were amazing eh. The CAs have enjoyed our unit theme and for our count off every CA is a different CArd. The CArds range from CArdio, the St. Louis CArdinals, The 6 of hearts, and a pokemon CArd Mankey. They have been working with Unit B playing CApture the counselor. The twist for this time was instead of the CAs being worth points to the Unit B CAmpers each CA had a CArd and at the end, best poker hand wins! They also organized slip'N"slide kickball for unit B.  My favorite thing so far this summer has to be the CAnada day party. July 1st is CAnada day and the CAs learned the anthem and were cheering on CAnada all day at Dorney one of the most fascinating amusement parks. When we got back to CAmp the Pargman Pavilion was decorated with CAnadian flags and maple leafs. We enjoyed traditional CAnadian food like poutine and maple syrup (with french toast). To CAp off the party the CAs broke a pinata to reveal their pink Bandanas which is one of the oldest traditions at CAmp. We CAn't wait to see what's next!
Stephen, CA Unit Leader
Today's Menu
Breakfast , Lunch , Dinner
Egg McAiry | Veggie Sausage | Cereal | Fruit | Yogurt , Hot Dogs and Hamburgers | Potato Salad | Salad Bar | Pasta Bar , Pulled BBQ Chicken | Cole Slaw | French Fries | Salad Bar | Pasta Bar | Rocket Pops

Today's Weather

High: 88°F | Low: 72°F
Sunny, warm, a tad rainy, and then a nice end of the evening.