Airy Blog
Director's Blog – July 5, 2017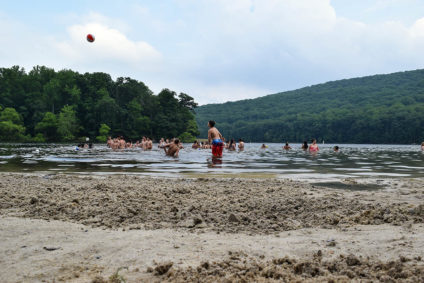 "Having a Ball"
My first supervisor job at camp happened in 1994, by accident. I was a counselor in Bunk 4. Dave Petit was my co. Joe Grolnick was the Unit Leader for our unit – Unit E. Just before turnover, Joe informed us that he would be leaving camp. The unit, really big with seven bunks, was about to split. I was "promoted" to the job of Unit Leader for Unit F – living in a bunk as a counselor.
Since that time, I have had a bunch of different jobs in camp. Being Unit F Unit Leader will always have a special place in my heart, and the main reason why is the campers. Those campers are special – they are about to enter high school, they are in their final summer before becoming trainees. This combination distinguishes Unit F campers from all others in this way – they are on the threshold of big moments in both camp and life.
To recognize and appreciate these campers, we are in our fourth summer of the Unit F "signature" trip to Cunningham Falls and the adjacent lake / beach area. Our Airy boys hike from camp to the lake and falls, where they meet up with their Unit F peers from Camp Louise. Some Louise staff and campers participate in the hike, while the rest arrive via bus. While at the lake and falls, the campers and staff swim, play ball, hike the trails to and around the falls, and hang out. This trip brought some afternoon showers, which according to everyone I talked to, did not tarnish the fun of the day. Campers and staff took cover in the snack shack area, and the fun continued.
I can still fondly recall several trips to the lake and the falls as a camper and counselor. We would literally emerge from the last path that leads to the lake / beach area, walk toward the lake dropping our backpacks and kicking off our shoes, and then sprint into the lake for splashing and silliness. Pictured with this blog is a shot of our campers doing exactly that – the backdrop is beautiful, and the trip is one of the best, "campiest" things that we do at Airy.
If you have the time and live in proximity, consider making the trip yourself.
Marty
Today's Birthdays
Corey – staff
Today's Menu
[table "" not found /]
Today's Weather

High: 78°F | Low: 70°F
Overcast, then stormy, and then clear to end the evening