Louise Blog
Director's Blog – July 5, 2017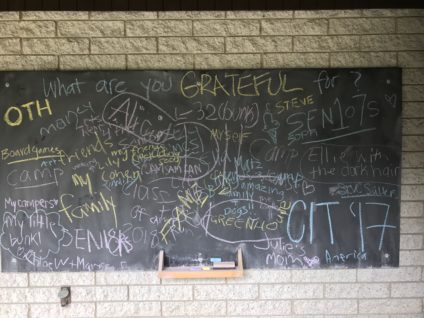 While searching online for quotes about this week's middah (gratitude), a few stood out to me:
Gratitude turns what you have into enough.
Feeling gratitude and not expressing it is like wrapping a present and not giving it.
Have an attitude of gratitude.
The secret to having it all is knowing you already do.
Expect nothing and appreciate everything.
And one of my favorites:
"Piglet noticed that even though he had a Very Small Heart, it could hold a rather large amount of Gratitude." A. Milne
We have a large chalkboard that hangs outside the dining hall and we write different questions on it for campers and staff to answer. Today's question was:
What are you grateful for?
We live each day of our busy lives probably not thinking too much about what we are grateful for. But I ask you today to pause for a minute and think about it. It could be something simple like your favorite flavor of ice cream or a rainbow after a rainy afternoon or maybe it is something more meaningful like good health, loving family and supportive friends. Whatever it is, think about it, embrace it, tell someone you are grateful for her/his role in your life. It will make you feel amazing and it will do wonders for the person you tell.
No matter how your day is going and what is happening in your life, there is always, always, always something to be grateful for.
Alicia
[bq_color]
Today's Birthdays

Alexi – Bunk 28
Lauren – Director of Development
[/bq_color]
Today's Menu
[table "" not found /]
Today's Weather

High: 79°F | Low: 65°F – Off and on rain but no activities were canceled and much fun was still had!