Airy Blog
Director's Blog – July 5, 2019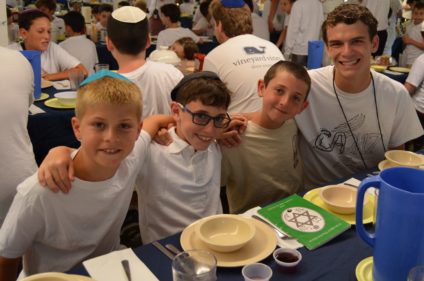 "I've Got Friends …"
… in low places" is part of a song from Garth Brooks. I only know that because the song was used as the basis for an Airy Olympic song, "I've got friends at Camp Airy," from 1993! That's a long time ago, and I still remember the chorus:
"I've got friends at Camp Airy, with Ed and Bill, and Mike and Larry,
I'll play all day, and I'll be okay
Tonight we're gonna beat the green, then we'll celebrate down at Campteen,
Oh I've got friends at Camp Airy!"
This blog, featuring a picture of campers and staff in their Shabbat white shirts, is not an Olympic general announcement, nor is it a fake-out announcement meant to build more and more suspense. It isn't even a clever, not-so-subtle reminder for bunks to get their laundry separated and sorted for Saturday's pickup. It's really just another example of friendships at camp. We share so many opportunities for connections and camaraderie – from just Friday, we saw high fives, hugs and even a few tears as our two week campers said goodbye. We saw Unit F head to a get-toegther with their counterparts from Camp Louise. We shared a Shabbat service and family-style dinner. Some thunder in the air forced us to postpone Song Session and dancing until Saturday, but we were able to work in Campteen treats before movies.
Saturday, weather permitting, will being more opportunities – a Shabbat service, an oneg, Outdoor Day, Havdallah, Electives, and the song-and-dance make-up. Try to keep up with us!
So long until the next blog,
Marty
Today's Birthdays

Tom – staff
    UNIT SPOTLIGHT – Unit A    

You may have thought with our two-week campers leaving, that the tropical vacation would be coming to an end. However, that couldn't be any further from the truth! With 55 new Unit A Campers coming on Sunday, the vacation is going to be in full swing! With exciting activities planned, such as a Luau, Tiki Party and all things hibiscus flowers! A trip to Sky-Zone and Airy Olympics coming up in the next two weeks, leads for Unit A's accumulative total of 65 campers for potentially the most fun two weeks in Airy history!
Levi, Unit A Unit Leader
Today's Menu
Breakfast , Lunch , Dinner
Cheesy Eggs | Mini Bagels | Cereal | Fruit | Yogurt , Tuna | Mac N Cheese | Salad Bar | Pasta Bar , Matzah Ball Soup | Baked Chicken | Grilled Potatoes | Green Beans | Challah | Salad Bar | Pasta Bar | Peach Pie

Today's Weather

High: 88°F | Low: 71°F
Overcast, warm with a touch of rain around dinner time.