Louise Blog
Director's Blog – July 5, 2019
IN A WORLD WHERE YOU CAN BE ANYTHING, BE KIND!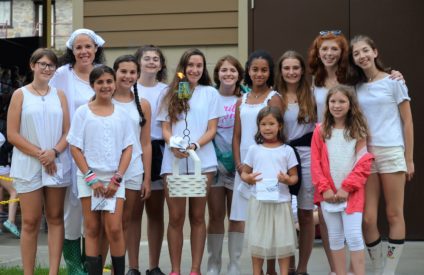 The middah this week is by far one of my most favorites – kindness. I love walking around camp and witnessing acts of kindness every day – campers helping each other, sharing words of encouragement, and showing genuine acts of kindness through their words and actions. And today we had Kindness Breakfast – songs playing – like Kill Em With Kindness by Selena Gomez and quotes on the screens too. A few of my favorites:
In a world where you can be anything, be kind.
Throw kindness around like confetti.
Be kind whenever possible. It is always possible.
-Dalai Lama
We had SO many nominations this week. Here are some of the reasons this week's candle lighters were recognized:
This camper took a friend to see her sister and waited until she was done.
After a younger camper spilled goldfish, she gave the camper some of hers.
She shared her towel with someone who forget theirs.
She has been welcoming, friendly, kind and funny to everyone in the bunk.
She is one of the kindest people I have ever met. Every day she will greet you with a smile and is always coming up to you if you feel lonely. One day I was sitting on my bed missing home and she noticed that I was sad. She offered to talk to me. She is always trying to help anyone around the bunk even if the counselors don't ask her to. She will be anyone's friend and she always has a shoulder to lean on. She truly represents Middah Girl!
She is always kind and nice to everyone. She is also very caring and compassionate. She is respectful and never talks back. She is one of the funnest people in the bunk and is friends with everyone!
She is always friendly and kind to everyone around camp and in the bunk and is always happy to share any of the activities she has with her. She also helped one of her bunkmates get a tie-dye stain out of her shirt.
She is kind to everyone in and outside of her bunk, always offering to help people and is always there for everyone.
She was so caring to a fellow ST on the New York trip when she was upset.  She is such a great friend!
These girls have volunteered to help lead music rehearsals for our musical Frozen. They have really been quite amazing!
She is always kind to everyone–counselors and campers. During the ST trip to Sandy Springs, she took the initiative to clean up all of the pizza boxes without being asked, and to make announcements so her peers knew what they needed to do. She wanted to make sure that her friends had the best trip and she demonstrated her kindness the whole night.
Last night at our Jewish Chicks Rock concert (a blog coming up on this soon!), the staff band played a song by Naomi Less and Glenn Grossman that was specifically written for us at Camp Louise. The chorus sums up this week beautifully:
We lift each other higher, higher at Camp Louise
We make each other stronger, stronger at Camp Louise
We live a life that's kinder, kinder at Camp Louise
Knowing this place it's our home
Shabbat Shalom!
Alicia
Today's Birthdays

Sophie – Bunk 20

Lauren – Director of Development
DIVISION SPOTLIGHT – Senior Camp

Today, the girls of Unit F took a trip to go roller skating!  We had hoped to go to Cunningham Falls, but the weather was not looking so great, so we rearranged and went roller skating instead!  We had such a great time!  I was so proud of the flexibility the girls showed as we rearranged.  And then, we got to the skate rink and the fun really started!  I watched as one camper put on skates for the first time and set out to try skating!  At first, you could see the hesitation on her face.  She held on to the wall and inched her way along.  Slowly, and with the help of her friends, you could see her confidence grow.  Next thing I knew, her hands were off the wall and she was skating on her own, with a friend on each side and the biggest smile on her face!!  To me, this is the beauty of camp — it is where we are surrounded by love and support, and we find the courage to try new and sometimes scary things!  What a special moment to watch!!
Sara – Senior Camp Division Head

Today's Menu
Breakfast, Lunch, Dinner
Scrambled Eggs | Cheese | Home Fries | Meatless Sausage | Orange Slices, Ravioli | Eggplant Parmesan | Caesar Salad | Garlic Breadsticks | Salad Bar | Pasta Bar, Shabbat Dinner | Grape Juice | Challah | Matzoh Ball Soup | Chicken | Oven Roasted Potatoes | String Beans | Salad Bar | Pasta Bar
Today's Weather

High: 86°F | Low: 69°F
I'm feelin' hot, hot, hot – with an evening shower.