Airy Blog
Director's Blog – July 6, 2015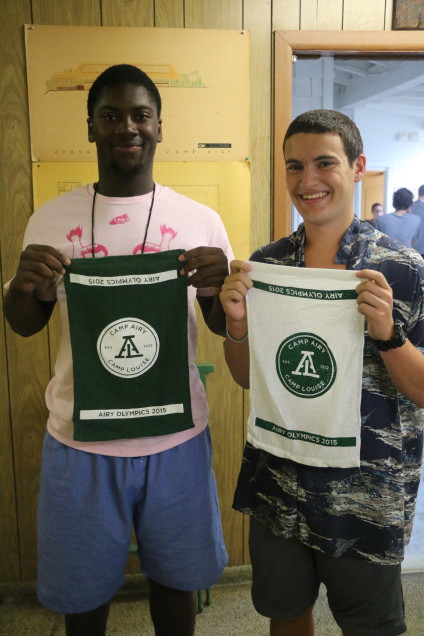 A tradition unlike any other – the Camp Airy Olympics! At Airy, we conclude each long session with our Olympics. Other camps may have their Color War or Color Games or their Macabiah. Airy does Olympics – and we do it well.
The guys featured in the picture were selected "General" of their teams. Cam for the Green team, and Zack for the White team. You can see them holding their team rally towels – and all campers will receive a team towel as well. The entire camp will be assigned to either Green or White, and beginning Wednesday next week we will be all Olympics all the time. The whole camp erupted in cheers when we announced the Generals at Monday's breakfast.
Olympics mark the intersection of fun, competition and tradition.
Green will compete against White in song, sport, swim, flag design, wacky games, inspection scores, skits and so much more. Campers and staff will be draped in Green or White attire for the Olympics from start to finish. In most years, the champion is decided in the Tug o' War on the last afternoon of Olympics. Each General, supported by his braintrust of "lieutenants" from all parts of camp staff, decide upon a theme for the team. Campers dress and act the part for pep rallies and cheers.
During Olympics, campers sing their loudest, clean their bunks until they shine, and root for teammates until they lose their voices. In the week leading up to Olympics, campers can't wait to learn what team they are on, and when they see their General walking around they immediately salute. I fondly remember being involved in Airy Olympics over the years (21 summers, 4 generals per summer ) and being tickled at the idea of saluting my general: The Wizard of Airy, Luke Skywalker, Mr. Mikey (instead of Mr. Rogers), Shaggy from Scooby Do, and Indiana Johnny (instead of Jones). With Airy's White House, I've been led by a "President." I've attended "Ryan's Bar Mitzvah." I've seen Airy's version of James Bond, Austin Powers and the cast from Sesame Street.
I know Cam and Zack will help provide a great event for our campers.
Thinking back to my first summer as a camper in 1984, Olympics was a big deal then. And I'm glad to say that nothing has changed.
[bq_color]
Today's Birthdays

none
[/bq_color]
Today's Menu
[table "" not found /]
Today's Weather

High: 88°F | Low: 70
It was an off and on rainy day, but Mother Nature was on our side and no significant time at activities was lost.
Marty Rochlin
Director