Airy Blog
Director's Blog – July 6, 2017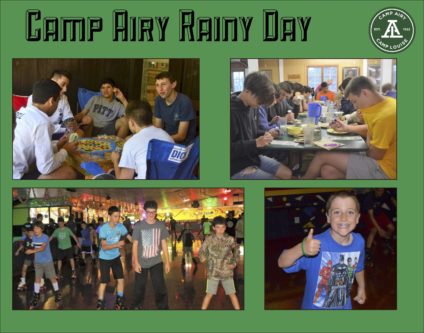 "Blame it on the Rain"
(Blogger's note – I saw Milli Vanilli in concert in 1991. Talk about feeling old compared to campers and staff, not to mention feeling duped about going to see a musical act in a live performance. But I digress …)
In case you hadn't noticed, we've had a lot of rain recently. Beginning with the evening on July 4, rain has impacted the schedule every day. We tweaked July 4 programming, we sent buses over early to bring back our Unit F campers from Cunningham Falls, and a handful of camp activities were washed out due to the rain.
On Wednesday afternoon, we stood up to Mother Nature. Members of camp leadership put their heads together, pulled some some strings, and hatched a plan that can only be described as genius. We saw Thursday's forecast, and we wanted to give our campers a memorable last day of the session.
Campers and staff walked into the dining hall to see their tables set up for Breakfast Bingo. Camp's bingo-caller-extraordinaire (and CulinAiry Department Head) Josh Lerner took up position on the mic and ran the ping pong ball machine. Oohs and aahs filled the air with every number called. In the end, Mark from Bunk 12 won. Hail to the victors!
A modified morning schedule followed, with some units playing low key games while others gathered in the gym for large group games. All of camp reconvened for lunch, and while campers chomped on their pulled BBQ chicken sandwiches, we made the announcement – Units A through F would heading our for an afternoon of roller skating. Cheers rang out across the room. I've never seen a meal cleanup go so quickly. Minutes later, buses rolled uphill, campers and staff (with socks of course) grabbed their seats, and away they went.
Airy's trainees, having just gone on trips and had activities with their Camp Louise counterparts the previous day, split the afternoon time between rest at the bunks, and playing ball in the gym.
Last but certainly not least, campers enjoyed end-of-session pizza parties with movies – "Fantastic Mr. Fox" for Junior Camp and "Avengers" for Senior Camp. Trainees, with no campers heading home, scheduled their movie for Friday.
Hoping for a dry and cloud-clearing weekend …
Marty
Today's Birthdays
none
Today's Menu
[table "" not found /]