Airy Blog
Director's Blog – July 6, 2018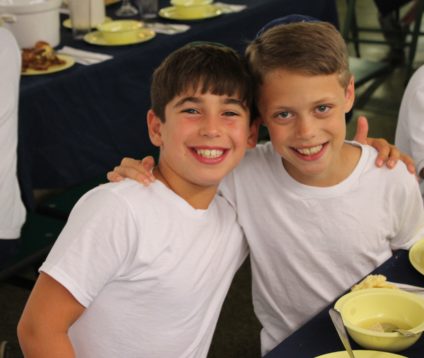 "Bim Bam"
Sometimes I think that the best job in all of camp is that of the photographer. Not only would you get like a zillion steps for your Fitbit challenges, but you would have a front row seat to so many of camp's special moments. When campers sit side by side – arms around each other – during a Shabbat dinner at Airy, they are recreating a scene that is as old as camp itself. Certainly the picture is chock-full of cuteness, but what also occurs to me is that these campers may one day be counselors for two other campers at a future Airy Shabbat.
Our weekly value is "leadership." All week long, campers and staff have looked for opportunities to show leadership themselves, and recognize leadership in others. Nominations in our "Who's your mensch?" box cite examples of leadership through both actions and words – taking initiative, solving a problem, organizing bunk members, seeing a need and putting in great effort to resolve it. Those individuals will be recognized at our Saturday morning Shabbat service.
Getting back to the campers at the Shabbat table…there is meaning in following a path that previous leaders have blazed. The lessons learned along the way, both intentional and by happenstance, cultivate leadership. As camp leaders, we challenge ourselves to facilitate personal growth. Can we help every camper, by the time he heads home at the end of a session, to be a better person, friend or leader? Will he have more confidence, more independence, and a new skill?
Be sure to check out the pictures from tonight's Shabbat to get a full feel of our night.
Marty
Today's Birthdays
None – Once again, Happy Un-Birthday to all!
Today's Menu
[table "" not found /]
Today's Airy Weather

High: 86°F | Low: 59°F
After a drizzly morning, a sunny and beautiful day.