Airy Blog
Director's Blog – July 6, 2019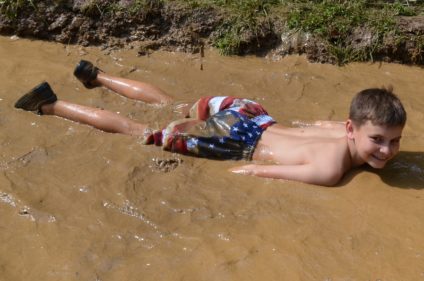 "Flintstones, Meet the Flintstones"
I mean, why not? They are the modern Stone Age family, right?!? Camp Airy transformed into Bed Rock for our most recent installment of Outdoor Day. Outdoors department head James organized his team, as well as their counterparts from Camp Louise, for a prehistoric party for our 4-week campers.
Upon arriving in Bedrock, campers and staff were engulfed in sights, smells, sounds and tastes. Bright-orange-with-black-spots rompers were the fashion all around. Brisket, (turkey) sausage and chicken aromas drew campers to the cafe and its cooking pit. Stone Soda helped to quench parched visitors' thirst. Rock music was prevalent … get it? And of course, there was MUD. Tug-o-war mud, pugilist stick and balance beam mud, and slip-and-slide that created more mess mud.
The Outdoor Day experience is one of many at camp where our boys can do something that they probably don't do at home … with people who don't come into their daily lives at home. Trying new foods, attempting to master a skill like fire building, and falling down into mud in front of others are just a few of the opportunities our campers summon courage to face. Our Airy staff spent some time during Orientation week discussing the book "The Heart of Boy." Author Kate Parker said about her photograph compilation, "I want to acknowledge with this book that you can have both strength and softness. Boys can be football players and tough as nails on the field, and tenderhearted and emotional off. It's possible to be both ― these qualities don't cancel each other out."
Shout out to Assistant Director Rachael Harvey for finding the book and building that training piece for staff. It was popular and powerful.
When we look at the broader scope of camp – singing and swaying together at a Shabbat service, and then (p)laying in mud, the diversity and depth of our campers is easy to see. We are excited to welcome in 120+ new campers on Sunday, and help them add their own page to our ever-growing Airy book of pictures.
So long until the next blog,
Marty
Today's Birthdays

Zachary
    UNIT SPOTLIGHT – Unit B    

We've been incredibly busy up here in Unit B!! From multiple adventurous trips out of camp to a campout and other camp wide events, it's been a great week. On Tuesday, each of our campers launched their very own rocket that they built and designed themselves!! And on Thursday we made two trips out of camp, going to canoeing and kayaking at Fort Ritchie and our trip to the Fountain Rock Nature Center. We thoroughly enjoyed our time out on the water and were excited for our trip in the evening! During our time at the nature center, we interacted with different types of reptiles (snakes, turtles, and other creatures). To conclude our trip, we even got to feed the snapping turtles! It has been a very exciting week, and can't wait for another amazing week!
Tyler, Unit B Unit Leader
Today's Menu
Breakfast , Lunch , Dinner
Scrambled Eggs | Mini Bagels | Cereal | Fruit | Yogurt , Chicken Tenders | Tater Tots | Corn | Salad Bar | Pasta Bar , Cheese Lasagna | Mozzarella Sticks| Zucchini and Squash | Rolls | Salad Bar | Pasta Bar | S'mores Pies

Today's Weather

High: 93°F | Low: 72°F
Warm and sunny until about 5pm, then rain storms off and on until bed time.