Louise Blog
Director's Blog – July 6, 2019
OUR 2ND ANNUAL CHOOSE-A-PALOOZA!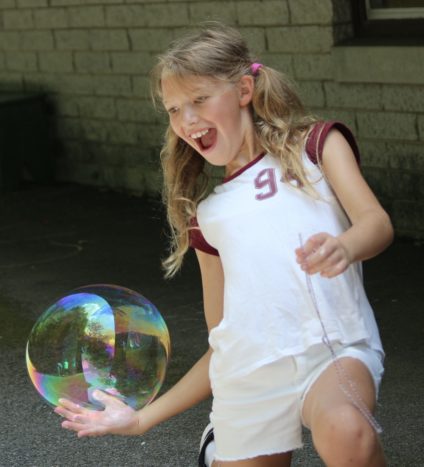 This weekend, we sadly said good-bye to our first 2 weekers. While we anxiously await the arrival of our second 2 weekers, our 4 weekers participated in an amazing weekend – our 2nd annual Choose-A-Palooza!!! Some of our current staff, as well as some of our alumni, offered some really fun and different activities. Check out some of the offerings:
Bocce Ball – Did you know that it is one of the most widely played games in the world – and that is also known as lawn bowling?
Cheerleading – Let's learn different cheers, moves and skills. Go Team Go!
Food Science – Come explore taste, texture, seasoning and the science behind it all!
Gaelic Football – With the luck of the Irish, maybe your team will win!
French Braiding – Learn new and interesting ways to braid hair – with your own hair ties and brushes of course.
Frisbee Golf – Join us on a frisbee golf course tour around Camp Louise.
Glow Dancing – If you've never danced with glow sticks, you don't know what you're missing.
Hungarian 1010 – Isten hozott a Camp Louise!
Israeli Cuisine – Come learn how to make authentic and delicious hummus with some of our Israeli counselors.
Meditation Jars – Learn to be gentle with yourself, relax and celebrate the beauty of YOU!
Not Yo Mama's Copper Enamel – Self-explanatory and so fun!
Salsa – Dancing, not chips and….
Sign Language – Learn to spell your name, interpret a song, and perform at Jill's Place.
Singing Songs Backward – Yup, it's a thing!
Spelling Bee – Will you be the next Camp Louise Spelling Bee Champ? Y-E-S!
We also had a host of STEM activities where the campers got a chance to participate in bubble wand design, paper roller coasters, balloon rocket races, and more!
Our 4 weekers were definitely kept busy with so many fun activities! And as we go to sleep after a busy day at camp, we can't wait to welcome our new 2 weekers tomorrow!
Goodnight,
Alicia
Today's Birthdays

Christina – Bunk 20

Alana – Camper Support
UNIT SPOTLIGHT – CAs

 Tonight, the CAs participated in a CA debate night. We all sat in the gym and discussed questions such as: "Is a hot dog a sandwich?" or "What came first… the chicken or the egg?" The 2 teams each shared their opinions and the whole room was laughing and having a great time. It was so incredible to see them bond as they discussed the topics. What a great night here on the mountain!
 Jill – CA Unit Leader

Today's Menu
Breakfast, Lunch, Dinner
Scrambled Eggs | Mini Bagels | Berries, Ravioli | Eggplant Parmesan | Cheese Quesadillas | Salsa | Sour Cream | Rice | Sauteed Onions and Peppers | Salad Bar | Pasta Bar, Israeli Dinner | Falafel | Hummus | Tahini | Tzatziki | Israeli Salad | Cous Cous | Pita Bread | Salad Bar | Pasta Bar
Today's Weather

High: 85°F | Low: 70°F
A hot, summer day with another evening rain!  This is starting to sound repetitive…