Airy Blog
Director's Blog – July 7, 2015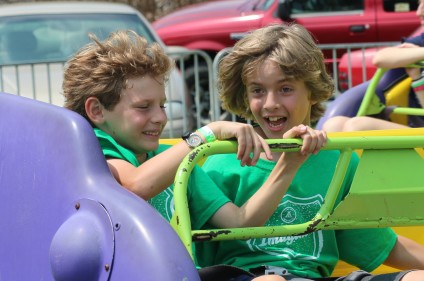 Thurmont, MD and its residents have been a gracious host to Airy for decades. Over the years we have built relationships with a number of local establishments, and those relationships directly benefit campers and staff. Most notable is Rocky's Pizza, whose owners Tony and Tina have been making pizzas for Airy bunk parties for more than 20 years. We regularly take campers on trips to Cunningham Falls, the Thorpewood Equine Program, and local orchards. For dozens of years, Airy held its end of the summer staff banquet at the historic Cozy Restaurant.
(And I'd be remiss if I didn't mention Sheetz, a staff member go-to place for snacks during time off, and a popular pit stop for families on their way in and out of camp)
A newer partnership in recent years has been the Thurmont Volunteer Fire Department / Guardian Hose Company. This community partner has helped keep camp safe, and has helped with our fireworks extravaganzas twice each summer. On Tuesday, we took all of the campers and staff from both Airy and Louise to the Thurmont Carnival, hosted by the VFD. The carnival opened early just for Airy and Louise, so our campers and staff could ride all the rides they wanted for three hours. The carnival leaders not only opened early just for us, but also worked with us for a snack and beverage voucher for every attendee. Our campers (and staff) had a blast.
When our campers and staff exited their buses, the overriding sentiment was (paraphrasing) "It was really fun and really hot out there." Say no more folks … while the campers were walking back to their bunks, we began communicating as a leadership team to provide an evening swim period for everyone. Thanks to our flexible and collaborative team, the unit activity that had been on the schedule was shelved, and each unit was able to have a swim period before Campteen and showers.
Pretty cool right? (That's a punny camp director joke …)
[bq_color]
Today's Birthdays

none
[/bq_color]
Today's Menu
[table "" not found /]
Today's Weather

High: 88°F | Low: 70
It was sunny, hot and humid.
Marty Rochlin
Director