Airy Blog
Director's Blog – July 7, 2016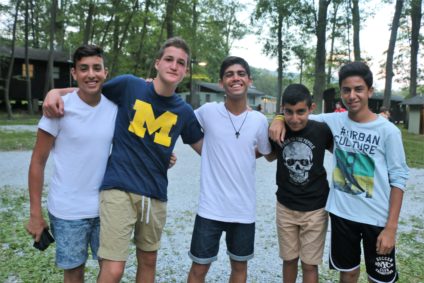 Tonight was a night of goodbyes at Camp Airy – we said goodbye to the first session of Summer 2016, and we said goodbye to the first batch of first year campers, and we said goodbye to our new friends & bunkmates from Ashkelon, Israel.
Ben, Richard and the Airy Music and AV/Tech departments hosted the summer's first "Musical Happening." Camper bands, a CIT band and the staff band all performed. The crowd clapped and danced along to favorites like "Smoke on the Water" and "Funky Town."
We made sure to let the new, soon-to-be-departing campers what will be waiting for them at the end of future summers – the lanyard after three summers, the backpack after five, the blanket after seven, and the jacket after nine. I wish they had cool stuff like this when I was a camper!?!?
The boys from Ashkelon – Ron, Gal, Ron, Sahar and Noam – were a fun addition to Camp Airy this summer. Some of the back story. Baltimore and Ashkelon are sister cities. Members of the two cities' partnership committees worked to recruit families who might be interested in a new experience – summer camp in the United States. During our trip to Israel in April when we met and worked with the shlichim, Alicia and I talked about camp with several families interested in Airy and Louise. We're so glad that the families decided to pursue Airy – and glad that five families chose to pursue and attend Camp Louise.
The Musical Happening wrapped up with our last group singing of "The Goodnight Song," followed by the magnificent mozzarella tradition of Pizza Parties.
Thanks to all for a great first session!
Marty
Today's Birthdays
Jake S.
Today's Menu
[table "" not found /]
Today's Weather

High: 90°F | Low: 70°F
Another dry day – partly sunny throughout.